By JK Verma
New Delhi. 31 July 2017. On July 28 in a landmark judgment Pakistani Supreme Court ousted the elected Prime Minister Nawaz Sharif who dared to confront the all powerful Pakistani Army. Nawaz Sharif was elected Prime Minister thrice but shunted out before completion of the tenure every time.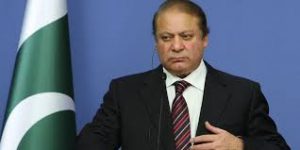 The five judge's bench unanimously threw him out, although he was not convicted for any crime, depicts the fragile nature of democracy in Pakistan. Nawaz Sharif was a powerful prime minister and his younger brother Shahbaz Sharif was the chief minister of Punjab which further strengthened him and it is the reason that authoritative Pakistani Army considered Nawaz as potential enemy.
Pakistan Army, which ruled the country directly more than thirty years out of seventy years of independence, paints politicians as corrupt and projects itself as the protector of the nation. Nawaz in his second term was not only overthrown by General Musharraf but he also forced Nawaz to leave the country.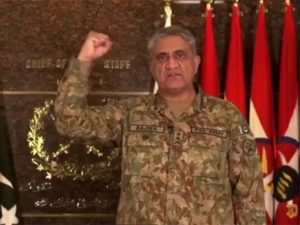 The previous Army Chief General Raheel Sharif undermined Nawaz through the agitations organised by Imran Khan of Pakistan Tehreek-e-Insaf Party (PTI) and Islamic cleric Muhammad Tahir-ul-Qadri of Pakistan Awami Tehreek (PAT) from August to December, 2014. General Sharif also controlled foreign policy towards several important countries including India, Afghanistan and USA. In the beginning Nawaz wanted to have cordial relations with India but Pakistani army which thrives on anti-India rhetoric curbed any such move.  The current Pakistan Army Chief General Qamar Javed Bajwa  famous for being a dark horse candidate as he was ranking fourth in seniority when he took over the most important job in Pakistan and not a very media savvy General, very smoothly completed operation Nawaz Sharif.
The biggest difference was on sponsoring "terrorism". Army controlled Inter Services Intelligence (ISI) has created several terrorist outfits and these terrorist organisations carryout terrorist activities in India and Afghanistan. International terrorists like Hafiz Saeed roam freely in the country and issues statements against India, USA and other countries which gave bad name to Pakistan.  Rana Muhammad Afzal an important leader of Pakistan Muslim League (N) also severely criticised Hafiz Saeed in an interview and demanded stern action against him.
Cyril Almedia a courageous journalist wrote an article in a daily newspaper 'Dawn' in which he mentioned about the animosity between civilian government and military leadership. The article also exposed about the bitterness between Shahbaz Sharif and the then ISI chief. Shahbaz mentioned in a meeting that whenever security agencies took actions against terrorists, ISI gave shelter to them.
The Army could not accept the domination of civilian government and determined to remove Nawaz and judiciary obliged. In Pakistan both civilian rulers as well as army are equally corrupt but the law was used against Nawaz and his family. General Pervez Musharaf who was facing charges of treason was allowed to leave the country in March 2016 which indicated the authority of Army as well as weakness of civilian government.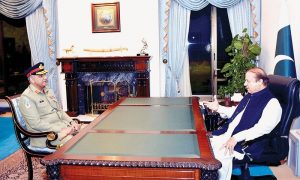 The Panama Papers were exposed by the International Consortium of Investigative Journalists in 2016 under which more than 11 million documents of law firm Mossack Fonseca which had headquarter at Panama were revealed to public. Few of these leaked papers mentioned that three children of Nawaz Sharif including Maryam, Hussain and Hasan owned few companies in British Virgin Islands and these companies were involved in the transactions of about USD 25 million. The documents also revealed that the Sharif family owns properties in London.
The Supreme Court while removing Nawaz under Article 62 and 63 of Pakistan's constitution also tasked National Accountability Bureau (NAB) to investigate the charges further as at present the corruption charges against Nawaz and his family including Maryam's husband Captain Safdar are not proved conclusively. It indicates that the judiciary or Pakistan Army on whose behest judiciary was working, was in utmost hurry to punish Nawaz and his family for challenging powerful Pakistani army. Nonetheless it also exposed the weakness of civilian government as well as of the judiciary. The Pakistan watchers also mention that in this case few powerful military generals not only took undue interest but also forced judiciary to dispose the case with undue haste.
Maulana Fazlur Rehman, President of Jamiat Ulema-e-Islam (JUI) and member of National Assembly echoed the voice of several educated Pakistanis when he reiterated that the Supreme Court judgment about disqualifying Sharif had astounded the legal experts and  history may not remember it as a correct decision. He also stated that it is done with the intention of creating a "political crisis". PML (N) leaders and analysts mentioned that Pakistan Army hatched a conspiracy to remove Nawaz Sharif. Abid Sher Ali PML(N) minister commented that democracy was stabbed. Here it will not be out of point to mention that PTI Chief Imran Khan is also facing investigation about possession of illegal properties and cases for tax evasion.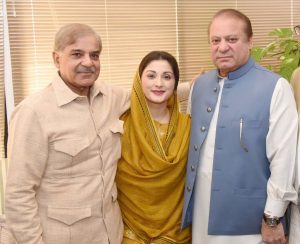 The judgment has created turmoil in the country. Sharif's daughter Maryam Nawaz who was groomed to take over from her father was also disqualified. It is expected that soon there will be defections in PML (N) and the party would be weakened further. If Shahbaz Sharif who always remained in the regional politics becomes the Prime Minister after contesting elections then the grip of PML (N) in Punjab will be diluted.
The opposition parties especially Imran Khan of PTI would also try to grab the power albeit with the connivance of  the Army. He issued statements welcoming the judgment and alleged that the court unanimously rejected the arguments of Nawaz Sharif and disqualified him to rule the nation.
The judgment came when economy is in shambles; terrorism has enhanced manifold and the country is isolated in world arena. The US has stopped USD 350 million aid to Pakistan. US State Department Country Report of 2016 emphatically stated that Pakistan is a "Safe Heaven" for terrorists and it failed to take stringent actions against Haqqani network as well as several other terrorist outfits including  Lashkar-e-Taiba (L-e-T) and Jaish-e-Mohammad (J-e-M).
The ousting of Sharif is an internal matter of Pakistan but it affects India hence policy planners in South Block should chalk-out a comprehensive strategy to deal with the off-shoots of this unwarranted situation in India. Pakistani Army which has waged a low intensity war against India and has been infiltrating terrorists in Kashmir will enhance funding and infiltration in India.
Pakistan Army as well as separatist leaders in Kashmir are realizing that the present Modi government is implementing a comprehensive policy in Kashmir to end terrorism. On one hand security forces are exterminating terrorists and their support agents under search and combing operations and on the other hand  they have enhanced vigil on the borders hence it has become difficult to infiltrate fresh terrorists. There are intelligence reports that the ISI is searching new routes to infiltrate terrorists and the  recent killings of Pakistani terrorists in Gurez in Drass sector confirm these reports.
Indian security agencies are also choking the sources of terror funding by ISI. On July 24 National Investigation Agency (NIA) arrested seven persons including son-in-law of separatist leader Syed Ali Shah Geelani for criminal conspiracy and waging war against India. The arrested persons were receiving funds from Pakistan and in turn they were financing secessionists, stone-pelters and terrorists. NIA also recommended closure of border trade between India and Pakistan as ISI is financing secessionist elements through over and under invoicing.Both Nawaz government and Pakistani Army  confronted the surgical strike by India. Pakistani army denied the surgical strike while Nawaz government accepted and termed it as "naked aggression".
Pakistan Amy will try to strengthen itself by propagating imaginary danger from India as it has already nullified the elected Prime Minister and the interim Prime Minister Shahid Khaqan Abbasi would not dare to resist the demands of the Army. Pakistan Army which survives on anti-India propaganda would try to worsen relations with its eastern neighbour. Pakistan Army Chief General Qamar Javed Bajwa may reject the appeal of Kul Bhushan Jadhav to show himself as anti- India.
Army controlled ISI will also pump more money in various terrorist outfits so that these groups can carry out more terrorist attacks in India and Afghanistan. Hence the security agencies should be careful not only in Kashmir but whole of India. The ISI may activate sleeper cells and would try to sabotage India's vast railway network as well as Pakistan sponsored terrorists may plant bombs in crowded places in big cities.
Pakistan Army will also try to get some advantage from the current standoff between India and China at Doklam, although China has never rescued Pakistan when it fought with India but Pakistani Army which knows that it cannot stand against India will certainly try to settle score with the help of Chinese Army.
But till then all eyes in  India are on Islamabad to get a glimpse of the man who will be chosen by the Pakistan Army to  rule the nation which is perpetually in turmoil.
 (Jai Kumar Verma is a Delhi-based strategic analyst and a retired senior intelligence officer. The views in the article are solely the author's. He can be contacted at [email protected])