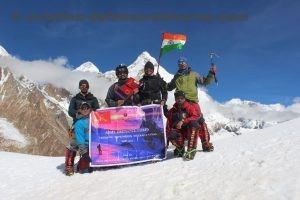 New Delhi. 30 September 2017. The Army Ordnance Corps Centre, Secunderabad organised a trekking expedition to Milam – Pindari Glacier (Traill's Pass) located in Uttarakhand which is considered to be one of the most challenging treks in the country. The trek commenced on 05 Sep 2017 from Loharkhet and successfully culminated at Munsiari on 22 Sep 2017.
The team of mountaineers led by Major Chirag Chatterjee traversed through snow bound areas, glaciated terrain and avalanche prone slopes of over 17000 feet. The terkkers faced inclement weather for four days at a stretch and survived with minimal rations at sub zero temperatures without any communication with the outside world.
Out of the 88 attempts made in the past to cross Traill's Pass since the time it was discovered by George William Traill in 1830, only 15 attempts were successful because of the difficulty posted by the glaciated terrain and a 800 feet vertical rock wall. Such feats would go a long way in inculcating the spirit of adventure in the younger generation.