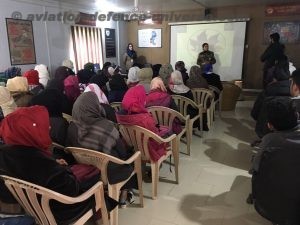 New Delhi, 15 Feb 2018. To achieve success, consistent efforts and motivation are the two important facets which are required. Under the aegis of Dagger Division, Chinar Nau Jawan Club, Baramulla is not only providing skill oriented training to the youth, but also helping them to gain exposure and motivation.To ensure the same, exposure visits and interaction with successful people from different fields are organised at regular intervals.
In the series of motivational talks, under the overall coordination of Dagger Artillery Brigade, Baramulla based Medical Officer interacted with the students of Chinar Nau Jawan Club on 13 Feb 2018. More than 60 students attended the talk. Officer-in-charge of the club from the Artillery unit at Khanpora was also present during the interaction. She told the students about the importance of selection of aim, hard work and focussed approach in life.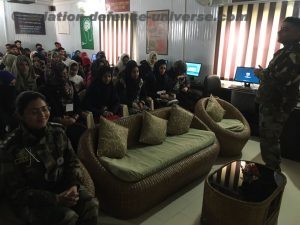 She gave her personal example as to how she pursued her dreams and motivated the students to pursue and achieve whatever they have decided for themselves. She emphasised that struggle in initial phase of journey for building a career is imminent and those who give up midway reach nowhere.
It was an inspirational interaction for the students of Chinar Nau Jawan Club Baramulla and the students actively interacted with the medical officer.
Army will continue to support the youth of Kashmir in building a bright future for them.