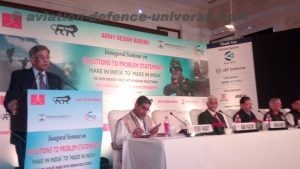 NEW DELHI, 25 October 2017: The Government was working towards development of domestic and indigenous defence capabilities to make India self-reliant in weaponry and technology for securing the nation, said Dr. Subhash Bhamre, Minister of State for Defence, Ministry of Defence, Government of India, at a seminar on 'Solutions to Problem Statements: Make in India to Made in India' organized by FICCI in partnership with Army Design Bureau (ADB). The Minister also launched the website of 'Solutions to Problem Statements: Make in India to Made in India' under the aegis of ADB. 
The Army has published two comprehensive compendiums listing out specific problem areas for industry and the research fraternity to propose solutions. Today's seminar acted as a platform to deliberate on potential solutions to the two volumes of the Compendium of Problem Statements. The Proposed Solutions, as found acceptable by the Army could then be taken up as projects through the services technical board fund and technology development fund managed by DRDO. A series of seminars in partnership with various institutes of technological excellence is planned pan-India.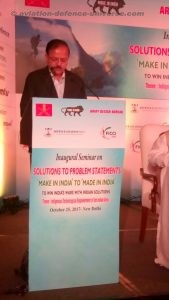 Dr. Bhamre said that the 'Make in India' initiative was spearheaded by ADB whose role is to facilitate Research & Development efforts and initiate Procurements of Weapons and Equipment required by the Indian Army. He added that initiatives such as 'Skill India' should be leveraged to make the defence sector indigenized.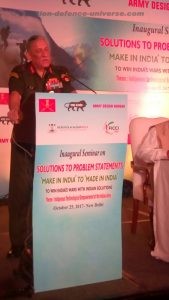 General Bipin Rawat UYSM, AVSM, YSM, SM, VSM, ADC, Chief of the Army Staff, said that concerted efforts had been made in order to build synergy among Army, industry and academia to give an impetus to modernization of Indian Army through indigenization. The Army was looking at ways to integrate technology with its manpower to beef up the nation's defence capabilities. Towards this end, the Indian Army was ready to facilitate the industry in meeting its defence requirement, he said, adding that funding was an issue and industry needed to come forward and scale up the innovations of DRDO to fulfil the needs of the Army.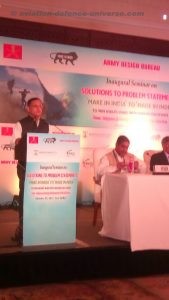 Lt Gen Subrata Saha PVSM, UYSM, YSM, VSM** (Retd.), Mentor for this initiative, said that there was a need to create a defence-industry panel and the private sector, industry associations needed to take this initiative forward by engaging thought leaders from academia and the operational world. He added that though the FDI regime was liberalized in the country and many reforms had taken, the policies either were never utilized or remains under-utilized. Hence, there was a need to realize the full potential of these policies to make Indian self-reliant in defence. 
Highlighting the various path-breaking initiatives of Bharat Forge in providing the Indian armed forces with world-class capabilities, Mr. Baba N Kalyani, Chairman & Managing Director, Bharat Forge Ltd., said that modernization of military equipment, technology, weaponry and capabilities was a continuous process.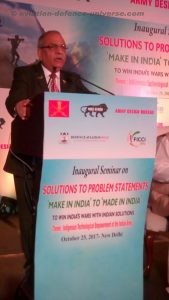 Mr. JD Patil, Whole Time Director and Member of the Board, Larsen & Toubro Ltd. and Chairman, FICCI Defence Committee, said FICCI was facilitating the industry to invest in the defence sector to make India self-reliant in military capabilities. Army had underlined the problem statements in the two compendiums and now countrywide seminars are being held to come up with solutions in consultations with policymakers, industry and academia. He added that there were many success stories where Indian armed forces and private sector came together to deliver cutting edge technologies and ordnance. The time has come to develop capabilities for the future and take India's defence sector to the next level. 
Dr. Sanjaya Baru, Secretary General, FICCI, said that these seminars were aimed at creating a platform for potential solutions to the 78 problems statements which were outlined for future technological requirements in Volume I & II. After the conclusion of this series of discussions, acceptable solutions will be collated and published as a Compendium of Solutions to Problem Statements, which the Chief of Army Staff will present to the Prime Minister.