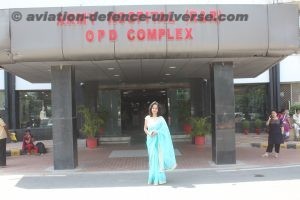 By Sangeeta Saxena
New Delhi. 09 October 2018. Soldiering is difficult , nursing a soldier is tougher and cooking to get these patients back to shape one is a challenge which the  Army Hospital Research & Referral more popularly called R&R has been meeting with élan.
"We at Army Hospital (Research & Referral) believe that for holistic well being of our patients there is a need to pay attention to complementary measures like healthy diet, good hygiene and sanitation in general, along with expert medical care. If a patient is happy with the quality and taste of the food and is well fed, it definitely leads to a faster recovery," said Rashmi Sharma, wife of Commandant Army Hospital (R&R) Lt Gen UK Sharma, who is also the Chairperson Patient Welfare Committee of the apex super-specialty hospital of the Indian Armed Forces.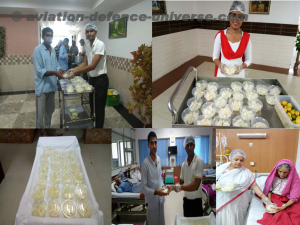 Providing comfort through food can be a challenge as many hospitalized patients are either required to adhere to a strict diet, or do not have an appetite. Nutrient targets are set for various diet types with goals for sodium, fats, carbohydrates, protein and total caloric intake" for various groups of patients. This can be a really complex exercise.
The need to assess food services in a hospital is not only important for patients' welfare and nutrition, but also for financial reasons. As far as the hospitals are concerned, food services that satisfy the needs of patients will primarily decrease food wastage, and will contribute in making significant savings. For this reason, hospital food services should be seen as an inseparable part of patient treatment process and it is important to evaluate patient views to make sure on whether the food served to the patients meets the expectations of both their nutritional requirement and taste.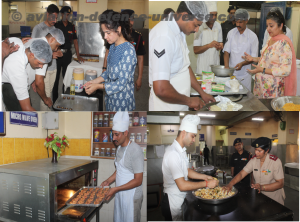 As the First lady of the hospital and a Fitness and Diet Consultant by profession, Rashmi  embarked on the project of bringing healthy changes in the food menu for the patients. To initiate the project, lady wives of the officers posted in AH(R&R) visited all the wards and conducted a food survey for in-patients. Based on the survey, various diet modifications were made in the patients' menu.
"Changes in the patient menu by substitution of fried food and snacks with healthier options was brought about by introduction of healthy recipes on monthly basis. Our first but strongest step was up gradation of food preparation for OR patients with the aim to narrow down the quality difference in the food served to ORs & Officers and their families. Today, other than much of the menu difference (due to different food choices) the quality of food preparation is at par, "said Rashmi Sharma.
 Hospital malnutrition is a grave problem world over as it increases the severity of illnesses, and lengthens duration of recovery as well as length of stay. It is important for hospital managers to identify strategies to ensure it does not happen at their hospital. This can be effected only with cyclic evaluation of patients' dietary needs, existing food quality and other grey areas which need to be looked into.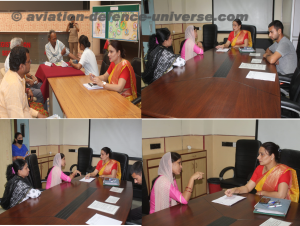 "At R&R we have taken steps to first identify the grey areas and then implement the change with consensus. All these changes have led to overall decrease in consumption of oil by nearly 15 litres per day. The cooks reluctantly, agreed to a change in menu and cooking methods from oil-rich food items to balanced healthier recipes and dishes. This not only ensured variety in food but also provided patient friendly menus, thereby minimizing complications caused by unhealthy diet" she added.
Rashmi informed that our in house dietician now sits in different OPDs on different days to make consultation easier for patients, who otherwise had to go to her office located in an entirely different part of the hospital, after consultation with the doctors. Another practice started is introduction of therapeutic diets which are prepared in a customized manner for patients with special needs under instructions of the dietician and are distributed separately in hot cases to different wards. All diets are in the process of being indented online in dietary module through Hospital intranet. This has helped in making the process of indenting and preparation of diets more streamlined and faster, while reducing the manpower required. Dietary modification advice sheets for various ailments are being distributed to all patients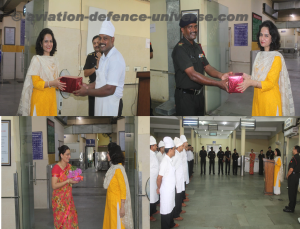 taking consultation in OPDs and to all in-patients at the time of discharge from the hospital.
But this is only half the battle won – the other half being able to prevent food borne diseases which are still common problems all over Asian countries, due to lack of knowledge and improper food handling, which result in food poisoning. "Improvement in personal protective practices of Food handlers" while distributing food to the patients at AH(R&R) is a new initiative taken by Patient Welfare Committee to maintain and improve the standards of food distribution practices. It has been made mandatory for food handlers to wear gloves & caps while serving food to maintain hygiene.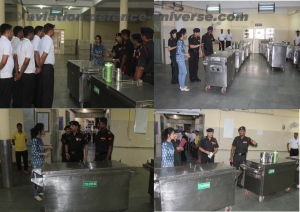 "The trolleys carrying food have been revamped. Each trolley is now plugged into an electric socket in the ward to keep the food warm. This helps in serving warm food to the patients. The trolley line up in the cook house has been made more systematic now. This has led to reduction of collection time from 1 hour to 20 minutes and has made distribution of food to different wards faster and more systematic. Cut fruits are now properly packed in bowls with cling films and served to patients at evening time to stay in tune with hygienic practices" informed Rashmi. To maintain a high level of motivation in the Cooks and Food handlers a new initiative has been started by her wherein one Cook and one Food handler are awarded the best Cook and best Food handler of the month from August 2018.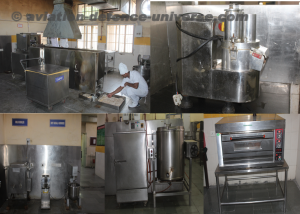 In an era of automation and technology-first, the cook house of the AH(R&R) is not far behind the state-of-the-art cook houses. To decrease the workload of the Chefs and to improve the quality of food, the latest machines like Electrical Kneader machine, Electrical Chapatti making machine, Electrical Idli maker machine, Electrical Vegetable cutter machine and Electric oven etc. have been placed in the Patient Cook House. The biggest gain in this automation has been contamination free cooking and infection free handling.
Food and nutrition are fundamental to military capability. Historical examples demonstrate that a failure to supply adequate nutrition to armies inevitably leads to disaster; however, innovative measures to overcome difficulties in feeding our military can reap many benefits, and save lives. And the Indian Army's multi-specialty R&R hospital nestled in the greenery of the national capital, is trying to run its kitchen on this dictum. "It is a mission we have embarked on and we hope R&R becomes an example to be emulated by all military hospitals, base and field hospitals. A good cook house is the greatest asset any hospital can have. We hope to be trail blazers for all the service hospitals in India," ended Rashmi Sharma on a positive note.