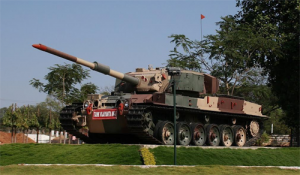 New Delhi.
01 May 2017. 
The Armoured Corps celebrated its '
79th ARMOUR DAY' on 01 May 17.  The event commemorates the mechanization of the erstwhile Indian Cavalry on 01 May 1938
, when the 
SCINDE HORSE
 became the first Indian Cavalry Regiment to stable its horses and convert to the 
Vickers Light Tank
 and 
Chevrolet Armoured Cars
. 
The elite 'Tank' Corps celebrated the 
DAY
 with serving & veterans officers' fraternity of the Corps and other arms/services. The elegant function truly epitomized traditional elan, camaraderie and all–round excellence that characterizes the Armoured Corps.
Courage in the face of fearful odds
', has been the enduring saga of the Armoured Corps and is exemplified by the award of 
two Param Vir Chakras
, 
15 Maha Vir Chakras
 and 
60 Vir Chakras
, amongst the large number of other gallantry and distinguished service awards bestowed upon its officers and men, after independence. 
The elite Arm has transited from Light Tanks / Armoured Cars in the 1930s to Stuart and Sherman tanks, Centurion heavy tanks, AMX-13 light tank in the 1950-60, the indigenous 
Vijayanta tank
, Russian 
T-54/55
 and 
PT-76
 tanks in the intervening period, to is present day fleet comprising the 
T-72 (AJEYA)
 tank, the modern 
T-90 (BHISHMA)
 tank and the indigenous 
Main Battle Tank ARJUN
. 
Organized, equipped and trained to effectively accomplish assigned mission in all types of conventional operations in varied terrain, the 
Armoured Corps 
also 
contributes substantially
 to the Army's counter insurgency effort with a large representation in the 
Rashtriya Rifles and Assam Rifles.  
It has a standing Contingent in the UN Peace Keeping Mission in Lebanon as its representatives amidst the blue beret fraternity.