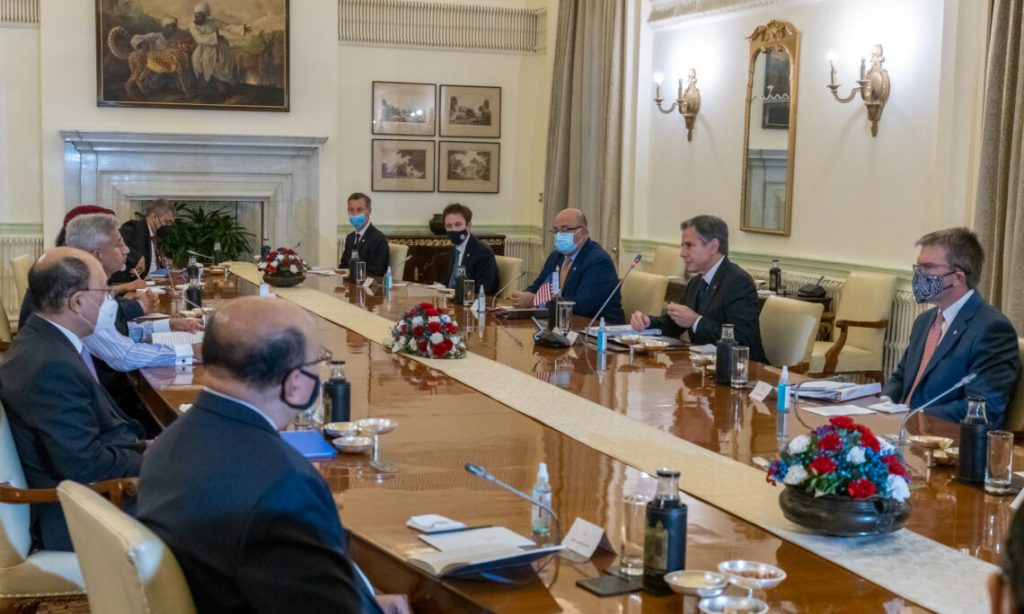 Quad is not a military alliance
Afghan-led and Afghan-owned peace process
Cooperate for peace & stability in Indo-Pacific
By Sangeeta Saxena
New Delhi. 28 July 2021. America's top diplomat was here in India on his maiden visit in his capacity as Secretary of State and Anthony Blinken attracted eyeballs both international and regional.
" I think we have in our democracies self-righting mechanisms that are made up of free citizens, of different backgrounds, different faiths, a free media, independent courts, powered by a system of free and fair elections. The most remarkable democratic elections in the world, in many ways, are here in India, just by sheer numbers. It's the largest expression of free political will by citizens anywhere on Earth," was praise which did not go down well with many within and outside India. China was quick to state that democracy is a common value shared by all, not a patent owned by any country. To achieve democracy, there are various ways rather than a fixed formula or a standard answer. "One-man, one-vote" and a multi-party system is not the sole form of democracy. Democracy should not be used as a label or tool to belittle or smear other countries or stoke confrontations.
Blinken went ahead and said, "What the Quad is not is a military alliance; it is not that. Its purpose is, again, just to advance cooperation on regional challenges while reinforcing international rules and values that we believe, together, underpin peace, prosperity, and stability in the region. And, of course, we're doing that as well in cooperation with other countries, with ASEAN, and other likeminded partners." Indian Minister of External Affairs S Jaishankar added, " On the other side of India, the Indo-Pacific presents a different set of challenges to stability, growth, and prosperity. Under the aegis of the Quad framework, we are engaged on maritime security, HADR, counterterrorism, connectivity on infrastructure, cyber and digital concerns, COVID-19 response, climate action, education, and resilient and reliable supply chains, " quashing China's perception of QUAD being an Anti-China front of world and regional powers.
But the most important discussion point was Afghanistan. Secretary of State reiterated, " We're both committed to the proposition that there is no military solution to the conflict that afflicts Afghanistan. There has to be a peaceful resolution which requires the Taliban and the Afghan Government to come to the table, and we both agree, I think strongly, that any future government in Afghanistan has to be inclusive and fully representative of the Afghan people. But ultimately, this has to be an Afghan-led and Afghan-owned peace process that we will all support."
His Indian counterpart stated, "Regarding Afghanistan it is essential that peace negotiations are taken seriously by all parties. The world wishes to see an independent, sovereign, democratic and stable Afghanistan at peace with itself and with its neighbours but its independence and sovereignty will only be ensured if it is free from malign influences. Similarly unilateral imposition of will by any party will obviously not be democratic and can never lead to stability nor indeed can such efforts ever acquire legitimacy. The gains to Afghan Civil Society especially on the rights of women, minorities and on social freedoms over the last two decades are self evident; we must collectively work to preserve them. Afghanistan must neither be home to terrorism nor resource of refugees."
And as this discussion was happening in New Delhi, China's State Councilor and Foreign Minister Wang Yi was meeting with a visiting delegation led by head of the Afghan Taliban political committee Mullah Abdul Ghani Baradar in Tianjin. The heads of the Afghan Taliban's religious council and publicity committee were also on the delegation. He said that China, as Afghanistan's largest neighbor, has always respected Afghanistan's sovereignty, independence and territorial integrity, adhered to non-interference in Afghanistan's internal affairs and pursued a friendly policy toward the entire Afghan people. Afghanistan belongs to the Afghan people, and its future should be in the hands of its own people. The hasty withdrawal of the US and NATO troops from Afghanistan actually marks the failure of the US policy toward Afghanistan. The Afghan people have an important opportunity to achieve national stability and development.
State Councilor Wang pointed out that the Afghan Taliban is an important military and political force in Afghanistan and is expected to play an important role in the country's peace, reconciliation and reconstruction process. "We hope that the Afghan Taliban will put the interests of the country and nation first, hold high the banner of peace talks, set the goal of peace, build a positive image and pursue an inclusive policy. All factions and ethnic groups in Afghanistan should unite as one, truly implement the "Afghan-led and Afghan-owned" principle, push for early substantive results in the peace and reconciliation process, and independently establish a broad and inclusive political structure that suits Afghanistan's national realities," he hoped.
U.S.-India defense cooperation is reaching new heights, including through information sharing, liaison officers, increasingly complex exercises like Malabar, and defense enabling agreements, such as the secure communications agreement COMCASA. As of 2020, the United States has authorized over $20 billion in defense sales to India.Through the U.S.-India Defense Technology and Trade Initiative, the United States and India work together on co-production and co-development of defense equipment.The United States and India are also closely coordinating on regional security issues, such as Afghanistan.
Secretary Blinken briefed Prime Minister Narendra Modi on his fruitful exchanges with EAM and NSA earlier in the day and expressed strong commitment to further deepen India US strategic relations in various sectors including defence and maritime security, trade & investment, climate change and science & technology. He appreciated the increasing convergence between India and US on a wide range of bilateral and multilateral issues, and the commitment of both strategic partners to convert this convergence into concrete and practical cooperation. The Prime Minister noted that the India-US Strategic Partnership will be of even greater global significance in the coming years, in the context of the challenges posed by COVID-19, global economic recovery and climate change.