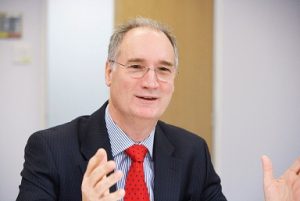 Derby. 11th July 2016.  Andrew Stevens has joined the board of Pattonair as a Non-Executive Director in a key appointment.
The former Chief Executive of Cobham brings to Pattonair his extensive international experience in the aerospace and defence industry and the wider technology and engineering sectors.  His expertise in operating globally, built over 30 years in North America, Europe, the Middle East and Asia, will be a significant asset to Pattonair in continuing to develop and implement its successful growth strategy.
On his appointment Andrew Stevens commented, "I am delighted to join the Board of Pattonair who provide a Strategic and cost effective solution to our key Aerospace customers' future requirements ".
Andrew was a Director of Cobham plc between 2003 and 2012 where he held a range of positions, becoming Chief Executive in 2010 until June 2012 when he stepped down due to a recurring health issue.  Before joining Cobham plc he held senior positions with Rolls-Royce and Messier Dowty International.
More recently his Private Equity experience has been as Non-Executive Chairman of AIM-Altitude, a premium cabin interiors business which was sold by Towerbrook to AVIC.  He currently holds non-executive director roles for CAE Inc, Hèroux-Devtek Inc and De La Rue Plc for whom he is also its Senior Independent Director.