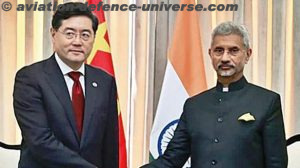 By Commodore Ranjit B Rai(Retd.)
 New Delhi. 20 March 2023.  The world is going through climate change and perma-crisis after Covid, to describe an extended period of instability, insecurity and economic unpredictability, exacerbated by the extended Russo-Ukraine war. The USA attempts to diminish Russia's power by providing weapons and financial support to Ukraine and wrest Crimea and the Black Sea into NATO's ambit. European nations are falling in line by giving arms and transit to Ukraine, primarily through Poland. The USA's other aim is to retain its primary status and contain a rising China. It looks to  India to join as a military ally to check China's aggressive attitudes in the Indo-Pacific, as China has annexed most of the South China Seas and militarised artificial islands, and hinders free navigation. The world looks to India which enjoys a strategic maritime advantage in the Indo-Pacific.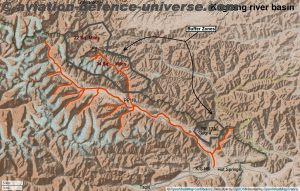 Three maritime strategists of the last century, Alfred Thayer Mahan, KM Panikkar and John Corbett, predicted the world's future could well be decided on the waters of the Indian Ocean in the 21st century. India's Navy is a small, capable missile-laden three-dimensional force, which given the funds, can expand to keep a check on the PLA (Navy) and support free navigation in the Indo-Pacific with the QUAD and the free world Navies, which USA's Admiral Mullen dreamt of as a 1000 ship Navy. China's lifeline of energy and other imports, and significant exports, pass the choke points that the resident navies can block as a deterrent  to China's aggressiveness. The Indian Navy can also be beefed up and made a more prominent force for stability and free navigation in the Indo-Pacific. Indians must smell the coffee, recall history and refrain from joining the West in a cold war with China but take advantage of the sweet spot it is with friends on both sides of the world's aisle. Australia will acquire nuclear submarines, and Japan has increased its defence budget and is increasing its Maritime Self Defence Force and placing missiles on its Senkaku islands to deter China.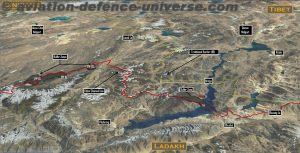 Admittedly the China factor matters, as the undefined Indian border with China is a legacy left behind by the British. It has bedevilled Indo-Chinese relations. In the 1950s, the world watched China annex the Tibet Autonomous Region (TAR). In 1959 the 14th Dalai Lama, aged 25, with some of his Government officials and Tibetan followers assisted by the USA's CIA, escaped from Lhasa after the 10th March uprising engineered by China and took refuge in India. USA's leadership attempted to make Tibet Independent with India's support and set up Centre 22 at Chakrata to train Tibetan and Indian troops to take Lhasa in a coup.
China saw red, promptly claimed the McMahon line with modifications as the permanent India-Tibet-China border, and moved forward. In 1962 Prime Minister Pandit Nehru ordered the military to pursue a forward policy on the Indo-Tibetan border and to throw the Chinese out, especially from the Namka Chu Nala in the East. In 1962 Mao Tse Tung seized the opportunity to salvage his sagging power after his Long March policies failed and ordered China's People's Liberation Army (mark the word 'Liberation' in PLA) to go down to what they claimed was the 1959 borderline in the East near Tezpur, and areas in Western Ladakh and waged the 1962 Indo-China war that India lost. Relations between India and China have never been normal since.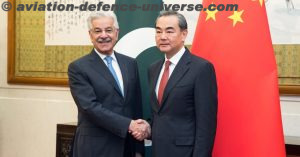 China befriended Pakistan on the principle that 'an enemy's enemy should be made a friend'. In 1963 Pakistan ceded 20,000 sq km of the strategic Shaksgam valley in Pakistan-Occupied Kashmir (POK) to China in exchange for military and nuclear technology. Shaksgam borders Xinjiang Province of China to the north, the Pakistan Occupied Kashmir (POK) to the south and West, and the strategic Siachen Glacier area that the Indian Army controls at a high cost. Matters rested at that for years till 1993, when India and China agreed on a line of peace and tranquillity. Other agreements followed to hold the peace. The catch was the line was over 20km thick at places on maps, so both armies had differing perceptions of where the final border lay. India's China study group laid down patrolling points but never got China's agreement. Both troops have clashed near their forward patrolling points albeit without using weapons.
China has always looked for an opportunity to settle the border by force. Early in this century, China stole a march on the economic front, galloped with a GDP five times India's, and became the world's factory for manufactured goods and India's largest trading partner, with trade in its favour. In May 2020, the PLA, after annual exercises in Tibet, unilaterally attempted to change the ground situation by surreptitiously transgressing into Pangong Tso (lake), Gogra-Hot Springs, Khugrang nullah and Galwan Valley in Ladakh, breaking all agreements and stopping Indian Army from patrolling to points, India claimed. On 20th June, in a physical exchange at Galwan, India lost a full Colonel and nineteen soldiers. Diplomacy took over to calm the situation.
On 20th September 2020, EAM S Jaishankar met with his counterparts Sergei Lavrov in Russia and China's Wang Li to bring about normalcy. Both sides' local Army commanders have met and decided on non-patrolling buffer zones on maps. An uneasy peace is holding because the buffer zones stop India from patrolling to its claim lines, and the Army is deployed in a stand-off in Western Ladakh with around 50,000 troops, missiles and tanks. The Indian Air Force has moved up, and China still holds India's grazing lands in Depsang Plains and Demchok. There is no de-escalation of forces on either side despite meetings between diplomats and Army commanders on eighteen occasions. Also, there are competing claims in Arunachal Pradesh and Aksai Chin, where China is building connecting roads and a railway line.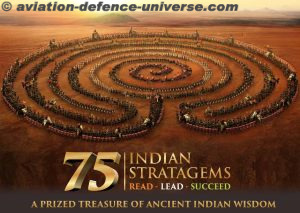 India looks forward to the resumption of regular bilateral ties with China, but only when PLA allows the resumption of legitimate patrolling rights of the Indian Army in Depsang Plains in Daulet Beg Oldi (DBO) sector and at the Charding Nullah junction in Demchok and the return of gazing lands and de-escalation of troops. The MEA has left it to respective commanders to negotiate the issues and Army has released a book titled, "75 Indian Stratagems" to lead and succeed may help.
As the Chairman of G20 for 2023, a forum for economic and developmental issues, PM Modi has begun enlarged G20 meetings to solve the problems the world going through  perma-crisis. The Ukraine war has made nations take sides. During UN meetings, India and China, with five other nations, have abstained from voting that Russia is an aggressor,  defying the Western stand to name Russia the aggressor. China's foreign  minister Qin Gang, fresh from a stint as Ambassador in USA was in New Delhi for the G20 meeting of foreign ministers. On  2nd March, he lived up to Chinese Sun Tzu tactics to win and the 36 Stratagems of Zhuge Liang, also quoted by EAM Jaishankar in his book, 'The India Way', and hinted the border is settled with buffer zones and pressed for normalisation of relations. Qin cleverly noted to Jaishankar that as neighbour countries and major emerging economies, China and India have far more common interests than differences.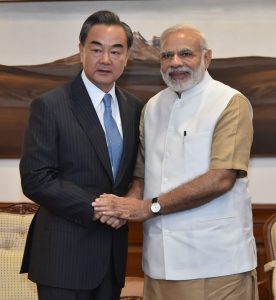 In the second year of the Ukraine war, the USA has gone too far to relent, leaving Germany and France with a Hobson's choice. Germany's Chancellor Olaf Scholz flew to India and wanted PM Modi  to bring about peace. Australian PM Anthony Albanese visited India and discussed the war with PM Modi and the future of the Quadrilateral (QUAD). India is at the world's crossroads. All nations facing China look to moves by India which has a rising economy and military power, and PM Modi calls it 'India's moment'. The Indian Navy is the net security provider in the Indian Ocean, and if enlarged, it can secure the seas beyond with friendly nations and the idiom, "A rising tide lifts all boats".
(Commodore Ranjit Rai retd is a former DNI and DNO in NHQ and author of The Indian Navy@75. Reminiscing the Voyage. ISBN 9 789381 722336 on Amazon Rs 250/-.)