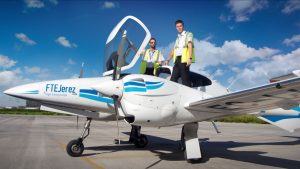 Le Loroux Bottereau. France. 01 September 2020 . ALSIM reinforces its presence in Spain and is happy to include FTEJerez, the ATO based in Jerez, Spain, as one of its customers with the sale of an AL250.
The AL250 simulator addresses initial phase training needs (PPL, CPL, IR/ME) and is SEP/MEP re-configurable simulator certified as an EASA FNPT II. In addition, it offers both classic and glass cockpit instrumentation for each flight model at the simple flick of a switch. This device has been extremely well received since its creation and more than 65 of these have already been installed and are in successful operation worldwide.
"At FTEJerez we believe that every stage of the training syllabus is important to achieve the standards the industry demands. The AL250 is a necessary upgrade to provide our cadets with the best equipment and training experience at what is a key stage of their training course: their initial single engine flying. At FTEJerez we look forward to certifying the AL250 as an approved Flight Training Device (FTD) and also for PBN (Performance Based Navigation). Furthermore, the device will allow FTEJerez to conduct Flight Instructor upgrades, for example to IRI", according to Oscar Sordo, CEO.
"We are very glad to welcome FTEJerez among our customers in Spain. Adding an AL250 flight simulator will enable the school to provide high-quality courses to the initial phases of the Ab-Initio training. We would like to thank FTEJerez team for their confidence and hope this is the beginning of a successful cooperation between our two companies" adds Nicolas de Lassus, Alsim Sales Account Manager.