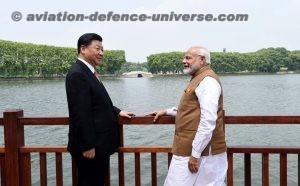 Agrees for a joint economic venture with India in Afghanistan
By JK Verma
New Delhi. 29 April 2018. Pakistan which considers India as its foremost enemy and makes assiduous efforts to keep India away from Afghanistan got jolt when it's all weather friend China agreed to have a joint economic venture in Afghanistan with India. Pakistan which works on the principle of strategic depth in Afghanistan and alleges that India uses Afghanistan to assist secessionist movement in its largest province Balochistan is deadly against India's role in Afghanistan. Pakistan also abducted an Indian citizen Kul Bhushan Jadhav from Iran and falsely implicated him for assisting secessionists in Balochistan.
The joint economic project with India is a big achievement as China wanted to augment its influence in Afghanistan. First China tried to enhance sway in Afghanistan together with Pakistan and also held a trilateral meeting of the foreign ministers of China, Pakistan and Afghanistan in Beijing in December 2017 ostensibly to reduce mounting tension between Pakistan and Afghanistan. Nonetheless it could not work as both Afghanistan and United States have evidences that Pakistan sponsors terrorism in Afghanistan. Several terrorist outfits especially Haqquani network and Taliban get perpetual assistance from Inter Services Intelligence (ISI) and the terrorist groups take shelter in Pakistan before and after carrying out terrorist activities in Afghanistan.
Hence now China dubbed Pakistan and started a joint venture with India which possesses an excellent reputation in Afghanistan. Now executives of both the countries will identify areas and projects in Afghanistan and will chalk out technical details. The analysts claim that it is a big diplomatic win for India and Pakistan is feeling jittery about India China cooperation in Afghanistan.
Prime Minister Narendra Modi met several times with President Xi Jinping in last four years but before the current meeting Xi Jinping has emerged as one of the strongest Chinese President as China's parliament eliminated two-term limit to the President in March this year.
Although the two days summit from April 27 to 28 at Wuhan was an informal meeting and no joint communiqué was issued and no agreements were signed but its preparation was no less than the formal summit. Before the summit National Security Advisor, Foreign Minister and Defence Minister visited China and prepared ground for the successful and result oriented summit.
Both leaders have also discussed long-standing border issue and decided to provide "strategic guidance" to their armies so that Doklam standoff which continued for about 73 days last year does not repeat. Both the leaders would instruct their defence forces to adopt more confidence building measures as well as communication should also be strengthened. It was decided that the Special Representatives of both the countries would pursue the border issues more vigorously so that they reach on some acceptable solution. So far twenty rounds of talks were already occurred and the last round was held in December 2017.
In the meeting several issues including climate change, cooperation in the field of spirituality, trade, tourism, agriculture, entertainment etc. were discussed. Chinese president mentioned that he had seen several Indian films and exchange of movies should be enhanced. In fact there is vast scope of development and exchange of soft power between both the countries. It was also decided that both the countries have maturity to solve disputes keeping the priorities of other country in mind.
The trade imbalance was also discussed as in 2016-17 India had a USD 51.1 billion trade deficit with China which is increasing. Indian Prime Minister pointed out about the export of agricultural and pharmaceutical products. China has emerged as the biggest importer of agricultural products in the world.
Although China demonstrates as if its neighbourhood policy is benevolent but in reality Chinese policies are expansionist. India must also be careful as China-Pakistan relations are very old and thick. China even supplied missiles to Pakistan and the former is using the later against India. The sinister ISI is supporting diverse terrorist outfits in India. The secessionist elements of Kashmir continuously get assistance from Islamabad and the latter not only train Kashmiri terrorists but also infiltrates large number of Pakistani terrorists in the valley. India has to put lot of resources to counter Pakistan sponsored terrorism in the country.
Besides border disputes India and China has several other irritants too including construction of dam on river Brahmaputra, non-stamping of visas on Indian passports on the residents of disputed areas of Arunachal Pradesh, India's exploration of oil and gas with Vietnam in South China Sea (SCS), the stay of Dalai Lama the greatest spiritual leader of Tibet in India.
China Pakistan Economic Corridor (CPEC) which is one of the six important projects of Belt and Road Initiative (BRI) is an important irritant between Beijing and New Delhi.   India cannot support China in CPEC as it passes through Pakistan Occupied Kashmir (POK) which is an integral part of the country.
China although condemned terrorism but in 15 members United Nations Security Council (UNSC) China is the only country which blocks declaration of Jaish-e-Mohammad Chief Masood Azhar as a UN-designated terrorist. China in this way not only helps its old friend Pakistan but also needles India.
China has also blocked India's entry into 48 nations Nuclear Suppliers Group (NSG) as India had not signed Nuclear Non-Proliferation Treaty (NPT). China advocates Pakistan's case for the membership of NSG as it is also a nuclear weapon state and not signed NPT but Pakistan's background is so shady in nuclear arena that very few nations would recommend its name for the membership of NSG.
The analysts mention that China is not member of Missile Technology Control Regime (MTCR) while sincere efforts of present government yielded results and India became member of MTCR. China applied for the MTCR membership in 2004 but the request was rejected as MTCR members felt that Chinese policies are not transparent and it helped few countries in developing ballistic missiles. As China could not get membership of MTCR while India got hence it opposes India's membership in NSG. China also feels that at present it has a foremost position in Asia in nuclear technology. Once India also becomes member of NSG, China's supremacy in Asia will end.
The delegation-level meeting which was scheduled only for 30 minutes continued for about two hours which gave very positive signal. The informal meeting was very significant and will go a long way as both the countries realise the significance of peace and harmony not only in border areas but in all spheres of relationship between two most populated nations of the world.  The summit is also important as both the leaders showed maturity and met despite of Doklam episode which strained the relations.
The statement of Chinese Vice Foreign Minister on April 28 that there is no "fundamental" difference between both sides and China will not be "too hard on it (BRI)" is also a positive indication.
China is leaning towards India as at present its trade relations with United States are strained and India is going closure to USA which is not in the interest of China. India is one of the biggest markets for China and the latter cannot afford to lose it. China which has surplus foreign exchange wants to invest in the infrastructure sector of India which will be useful for both the countries.
The analysts mention that China which has global ambition considers India as a potential rival in the region hence overtly it may show friendship with India but covertly it will continue harming India as there are several contradictions between the policies of both the countries.
Indian policy planners should not be over-enthusiastic about the recent informal meeting as China has the reputation of withdrawing from its commitments and there are several paramount differences between both the countries hence India must avoid war but continue strengthening its defence forces. At present Indian defence forces needs a great deal of replenishments which must be full-filled. India must also develop infrastructure on the areas abutting China as it will be required at the hour of need. Central government should also try to develop the neglected states of North East.
(Jai Kumar Verma is a Delhi-based strategic analyst and a retired senior intelligence officer. He is also member of United Services Institute of India and Institute for Defence Studies and Analyses.The views in the article are solely the author's. He can be contacted at [email protected])