Effective June 1, 2023, Alexandre Ziegler is appointed as Executive Vice President, Defense Division and member of the Executive Committee of Safran Electronics & Defense. He replaces Frédéric Mazzanti, who moves to another position.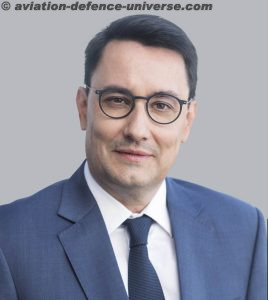 Alexandre Ziegler started his career in 1997 as advisor to the strategic, security and disarmament affairs division of the French Ministry of Foreign Affairs. He held a series of positions between 2000 and 2010, including Deputy Counsel General in Hong Kong, First Secretary, then Second Counselor in Berlin, and Counselor for Culture and Cooperation in Beijing. Alexandre Ziegler was then appointed head of programs and network at the Globalization, Development and Partnerships division in the Ministry of Foreign Affairs. He held this position until 2012, when he joined the cabinet of the Minister of Foreign and European Affairs. He was named chief of staff at the Ministry of Foreign Affairs in June 2013 and became in 2016 the French Ambassador to India. In September 2019, he joined Safran as Senior Executive Vice President, International
and Public Affairs. Alexandre Ziegler, 53, holds a graduate degree in history from the ENS Lettres et sciences humaines (1992), as well as degrees from Sciences-Po Paris (1993) and the Ecole Nationale d'Administration (1995-1997).
Safran is an international high-technology group operating in the aviation (propulsion, equipment and interiors), defense and space markets. Its core purpose is to contribute to a safer, more sustainable world, where air transport is more environmentally friendly, comfortable and accessible. Safran has a global presence, with 83,000 employees and sales of 19.0 billion euros in 2022, and holds, alone or in partnership, world or regional leadership positions in its core markets. Safran is listed on the Euronext Paris stock exchange and is part of the CAC 40 and Euro Stoxx 50 indices.
Safran Electronics & Defense is an international company with 10,000 employees, built on proven expertise in technologies that underpin sovereignty. By combining human and artificial intelligence, the company develops the products and services that empower aerospace and defense players to observe, decide and guide. Safran Electronics & Defense also supports fellow Safran companies by sharing its state-of-the-art electronics skills and expertise.