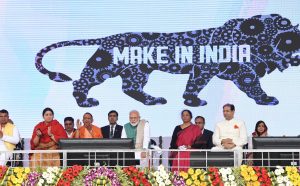 Amethi, India. 03 March 2019. Prime Minister of India Narendra Modi opened a plant for production of 200-series Kalashnikov assault rifles, in Corva, Uttar Pradesh. The founders of the JV Indo-Russian Rifles Private Limited for production of Kalashnikov assault rifles in India are India's Ordnance Factory Board (OFB) and Russia's Rosoboronexport and Kalashnikov Group parented by Rostec.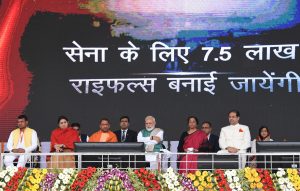 He visited Kauhar, Amethi in Uttar Pradesh where he dedicated to the nation, the Joint Venture of Indo-Russian Rifles Pvt Ltd, for Kalashnikov Assault Rifle Production. He also laid the Foundation Stone and dedicated various development projects in Amethi.
In his special message on the occasion, which was read out by Defence Minister Nirmala Sitharaman, Russian President Vladimir Putin said that "the new joint venture will manufacture world famous Kalashnikov assault rifles of the newest 200 series and eventually will reach full localization of production. Thus, the Indian defence-industrial sector will have the opportunity to fulfill the needs of national security agencies in this category of small arms, resting upon advanced Russian technologies."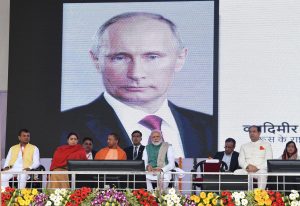 Addressing the gathering, the Prime Minister thanked President Putin for this partnership. He said lakhs of rifles will be made from this facility in Amethi, and will strengthen our security forces. He also said that this development has been long delayed. He said that this delay in the production of modern rifles for our soldiers, actually amounts to an injustice to the jawans. He recalled that despite projecting a requirement for bullet-proof jackets in 2009, no such jackets were procured till 2014. This requirement has now been fulfilled by the Union Government, he added. He said that earlier, such delays had also been happening in procurement of other important armaments. In this context, he also mentioned the Rafale fighter planes, and said these will start joining the Air Force within a few months, as a result of the efforts of the Union Government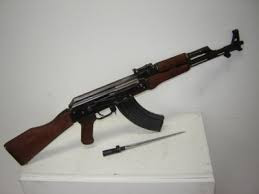 He also mentioned other development projects in Amethi, which were facing various bottlenecks in operationalization. He said those bottlenecks were being removed, so that the projects could be operationalized, and provide employment to people. He said the implementation of schemes such as PM Awas Yojana, Ujjwala Yojana, Saubhagya Yojana and construction of toilets, in Amethi, is now bringing ease of living to the people.
The Prime Minister said that the Union Government is empowering the poor, and helping them come out of poverty. He said similarly, the farmers are being empowered. In this context, he mentioned the PM Kisan Samman Nidhi. He said this scheme will ensure that 7.5 lakh crore rupees reach farmers over the next ten years.
"The commissioning of the JV for production of the AK203 is by all means a milestone in our partnership under the Make in India initiative. The plant in Corva is one of the most advanced OFB's small arms enterprises already in operation. With production of 750 thousand pieces approved, major components for them will come mostly from India. Nobody has offered India such deep and thorough localization opportunity with a rather high production quantity involved and it is unlikely that somebody will in the near future. The capacity of the plant is sufficient to arm the personnel of all security agencies in India. Should it become necessary, the parties will be able to ratchet up the production output and upgrade the facility to manufacture future models based on Kalashnikov's unique design," says Alexander Mikheev, Rosoboronexport's CEO.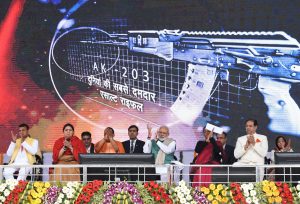 All operations of Indo-Russian Rifles Private Limited are consistent with India's laws and regulations. Major milestones enroute to the JV include a Government-to-Government Agreement, shareholders' agreement, approval of the JV Charter, as well as registration of the enterprise in India.
The 200-series Kalashnikovs were unveiled abroad in 2019. The weapons made their debut at IDEX 2019 in the UAE and Aero India 2019 in India's Bengaluru. The new Kalashnikov inherited all advantages of the conventional AKs, reliability, durability, and maintainability. At the same time, they are fully consistent with modern SA requirements in terms of ergonomics and compatibility with hi-tech accessories.
"India is the first country to have launched production of the 200-series of the world-famous Kalashnikov brand. We sincerely congratulate our Indian colleagues and citizens of Uttar Pradesh on this remarkable occasion, stressing a high level of trust and unquestionable strategic partnership between India and Russia in the defense and security domain," notes Alexander Mikheev.