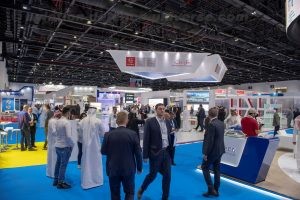 Dubai, United Arab Emirates. 24 May 2021. Airport Show, the world's largest annual airport industry B2B platform opens today and will run until May 26th at the Dubai World Trade Centre (DWTC) as the ICAO paints the 'most optimistic scenario' of the industry's global recovery by June 2021 and the start of the journey to regain the lost pace of growth.
In Q3, up to 71 per cent of the 2019 levels, with 53 per cent for international and 84 per cent for domestic flights, will likely be recovered. A more pessimistic scenario foresees only a 49 per cent recovery – 26 per cent for international and 66 per cent for domestic. As against 4.5 billion travelers in 2019, only 1.8 billion passengers took to the skies last year. The coronavirus pandemic led to a 50 per cent drop in domestic passenger traffic globally and 74 per cent in international traffic in 2020.
The International Air Transport Association (IATA), representing 290 airlines or 82 per cent of total global air traffic, predicts global revenue passenger km. (RPKs) improving by 50 per cent and growing to 2.8 billion with the opening of borders across countries by mid-2021.
To be held under the patronage of His Highness Sheikh Ahmed bin Saeed Al Maktoum, President of Dubai Civil Aviation Authority, Chairman of Dubai Airports and Chairman and Chief Executive of Emirates Airline and Group, the Airport Show-2021 will see the top decision-makers of key airports from across the Middle East, North Africa and South Asia (MENASA) making their way to Dubai to search for new products and services for their facilities.
His Highness Sheikh Ahmed said, ""Dubai's aviation sector is considered to be a vital global hub and is a leading source of economic growth for the UAE and the whole world. Its successful recovery will gradually influence the recovery of the entire worldwide network; therefore, it is important that our expertise, infrastructure and technologies facilitate this. Airport Show is going to take place at a time when the worst year in aviation industry history is getting behind us and we are emerging from the coronavirus pandemic's impact.
"Airport Show will remain the best venue to select and source the cutting-edge technologies and newest innovative products to enhance airport operations and get back the lost business," added His Highness. "Airport Show will be a good opportunity for all the airport industry players in the wider Middle East region to discuss new collaborative opportunities, with the Arabian Gulf at its centre."
Organized by Reed Exhibitions Middle East, the 2021 edition is to be held across 12,000 sqm. of exhibition space with 95 exhibitors and more than 100 hosted buyers from different parts of the world. Speakers will be addressing the co-located events both physically and virtually. It will have three co-located events: Global Airport Leaders Forum (GALF), ATC Forum and Airport Security, with two new conferences added to GALF: Airport Passengers' Experience and Airport Digital Transformation.
The event is supported by Dubai Aviation Engineering Projects (DAEP), Dnata, Dubai Air Navigation Services (dans), Dubai Police and GAL ANS and sponsored by Emaratech, Ground Handling Logistics (GHL), Indra, Honeywell, Hog Technologies and Saab.
After Airport Show Digital+ in December 2020, Airport Show Hybrid+ 2021 will be both in digital and live formats during its three days run in DWTC's Halls 7 to 8. This format introduces a new digital element to the face-to-face event that gives those unable to attend the event the opportunity to remotely participate, learn and engage through the digital platform. Meanwhile a Remote Connect Hub will allow global companies unable to travel to the show to showcase their technologies facilitated by pre-booked and onsite meetings. A dedicated Innovation trail feature will facilitate live testing and experiencing new products from exhibitors that will undoubtedly disrupt their sectors.
This time, there will be Digital Exhibitor Stands that will give the chance to engage with exhibitors even if attending the event remotely. One can 'visit' the stands of different exhibitors online via their dedicated webpage and connect using the online chat feature. The Business Connect programme offers a range of free networking services aimed at facilitating business connections live and digitally, before, during and after the event. Those attending remotely can watch all the conferences in real-time through streaming on its social media platforms and YouTube. Conferences will be available to watch after the event via the digital platform (15 days after the event) and then later on the Content Hub on the website.
A five-point plan has been developed to ensure the health and safety of the participants participating physically. Organizers will be following the venue disinfection protocols, sanitizers across multiple locations, capacity restrictions in all areas and touch free access to event information, matchmaking and content on visitors' own devices. This time, the country pavilions have been put up by Switzerland, Germany, Italy, France and UK.
Daniyal Qureshi, Group Exhibition Director at Reed Exhibitions Middle East, says the Airport Show has been a central meeting place to showcase the latest innovations and technologies and debate about the pertinent issues impacting the industry like Artificial Intelligence (AI), Blockchain, Cloud Technology and Drones. Due to the Covid-19 pandemic, airport operators now face new challenges in minimizing personal contact, reducing crowds, limiting common access to high-touch surfaces, and preventing terminals from becoming potential virus breeding grounds.
Biometrics is under the spotlight with 64 per cent of airports due to roll out self-boarding gates using biometric and ID documentation by 2023. As coronavirus is still airborne, airports are spending on touch-less technology to minimize its spread through contactless check-in, security processes, in flight entertainment and food and beverage pre-ordering. Self-service technology, predictive analysis, artificial intelligence, real-time information and data-sharing are among the digital concepts airports are deploying now to achieve a seamless passenger experience. The global airport construction market is projected to reach US$1.4 trillion by 2025 and the market for 'smart' airports is to reach the US$23 billion mark by 2025.
GALF will be staged for the eighth time with 70-plus speakers addressing the participants, both physically and virtually, including His Excellency Saif Al Suwaidi, Director-General of the General Civil Aviation Authority (GCAA) and His Excellency Major General Khalifa Ibrahim Al Saleis, CEO of Security Industry Regulatory Agency (SIRA). The largest hybrid gathering of airport decision-makers post-Covid-19 pandemic will have speakers including Stefano Baronci, Director General at ACI Asia-Pacific, Dimitri Coll, Vice President of Airport Customer Experience at ACI World, and Gary Leung, Manager for Security and Facilitation at ACI Asia-Pacific.
The fifth edition of the Women in Aviation (WIA) General Assembly will also take place alongside the event on May 26 to support the region's aviation and aerospace sectors to provide a sustainable, home-grown, gender-neutral pool of talent to support their ambitious growth plans. For the first time, an exclusive awards programme will honour key women who have helped gender diversity in the industry while a dedicated CV drop off facility will be available to allow young graduates to apply for jobs and internships at the event. The programme will also help provide an active pool of CVs for participating airlines, airports, aviation and aerospace entities to select the best candidates for their future requirements. Prominent speakers include His Royal Highness Prince Fahad bin Mishal, Chairman and President, GCC Aviation Association and Saudi Aviation Association, Allison McKay, CEO, Women in Aviation International (WAI), Bernie Dunn, President, Boeing Middle East, Turkey and Africa (META), Mervat Sultan, President and Founder of Women In Aviation Middle East Chapter, Gloria Bouillon, Airport Manager, Beverly Regional Airport, Ismail Robbana, Director of Sales and Marketing, Boeing, Tara Mulrooney, Vice President Technology, Edmonton International Airport, Akachi Iroezi, Director of Global Safety & Regulatory Affairs for ME and Africa at Boeing, Amir Emam, Sales Director at Honeywell Airports Business, and Laila Hareb Almheiri, CEO of Alive Group.