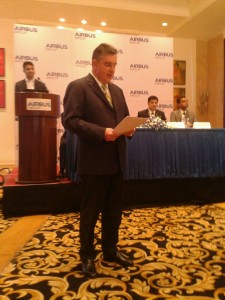 New Delhi. 14 March,2016. In what was a first reaction of sorts  from the international aviation community, Airbus in India  expressed serious concerns over the country's Foreign Direct Investment (FDI) policy that allows 49 per cent. "This has to be a win-win partnership. If we are bringing investments, technology and products on the table, then we need more control. So honestly, the 49 per cent limit is not a good limit. I want fair business. Fair business means that we need to have levels of control that are appropriate for the risks that we are taking," said Pierre de Bausset, president and managing director, Airbus Group India. It may be recalled that Prime Minister Narendra Modi's government raised the foreign direct investment limit in the defence sector to 49 percent from 26 percent in 2014.
 Addressing the media, at a pre-Defexpo 2016 interaction he informed  that Airbus plans an investment of Rs 5,000 crore in India which will result into creation of over 10,000 jobs. But this investment is dependent on awarding of contracts by Government of India.
From the much talked about establishment of the final assembly line for manufacturing Airbus' fixed wing C295 aircraft for defence application in collaboration with TATA Advanced Systems, the European major also proposes to transfer the Panther final assembly line to India, to establish the country as a global hub for Panthers.
It also wants to develop services that are linked to their platforms in India and is optimistic of overshooting US$2 billion in cumulative procurement, covering both civil & defence, in the five years up to 2020.
With 500 direct employees and over US$500mn in annual procurement of engineering & IT services, aero-structures, detail parts & systems, materials, cabins, etc. from India in 2015, Airbus is moving ahead with the dictum-what we buy in India we make in India.
The Make in India officer for the group,  Ashish Saraf, Airbus' vice president for industry development, informed that the group's "Make in India" strategy stresses on establishing the country as a hub for complex and demanding global aerospace ecosystem, train medium firms to becoming Airbus suppliers and play matchmaker among its suppliers. These MSMEs will support the complete line of aircraft manufacturing, testing and delivery.
It wants to build capability to establish India in the 'complex & demanding' global aerospace ecosystem. It plans to Impart training to MSME's and businesses to become an "Airbus Supplier". It will conduct compliance, process & manufacturing audits, impart on the ground training and certify, to ensure the global standards set by Airbus.
"Make in India" of Airbus strategy also aims at serving global markets. It plans to make the Panther Final Assembly Line  in India, a global hub and will develop tier 1, 2 & 3 supply chain. The C295 military transport aircraft FAL will also be modeled the same way. In addition it also wants to develop the fleet support services and supply partnership.
The plan is to assemble 40 such medium utility transport aircraft in India while the Ministry of Defence will be buying 16 off the shelf. Airbus will supplying 56 C295W for the Indian Air Force (IAF) in a bid to replace the ageing Avro fleet. The selection process for these aircrafts to India is still underway between Airbus and Ministry of Defence.chain of critical metallic aerospace structures & components.