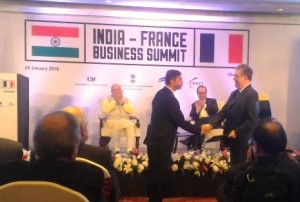 Chandigarh, 24 January 2016 – Significant progress has been made by Airbus Helicopters and Mahindra Defence following their Memorandum of Understanding (MoU) last July to form a Joint Venture as a part of the 'Make in India' initiative to produce military helicopters in India. Affirming their commitment, representatives of both companies signed a Statement of Intent, in the presence of the Indian Prime Minister Narendra Modi and the visiting French President François Hollande.
"Through this partnership, we target building several of our globally leading helicopter models in India. This will lead to the transfer of state-of-the-art technologies, development of manufacturing activities and creation of high-skilled jobs in India," said Guillaume Faury, Airbus Helicopters President & CEO.
Mahindra Defence and Airbus Helicopters have already initiated industrial relationship to produce helicopter parts locally and are defining additional work packages to be industrialised in India which would facilitate the required rapid ramp-up in the case of a programme award to the joint venture. Simultaneously, both sides are evaluating potential industrial sites and are screening the existing local supply chain, while moving ahead with the setting up of the Joint Venture.
"We have made significant progress in setting up the joint venture and together the companies are creating a world class advanced helicopter production facility in India," said S. P. Shukla, Group President, Aerospace and Defence, Mahindra & Mahindra Ltd.
The companies are proposing to set-up a final assembly line in India, develop tier-1 and tier-2 suppliers and make extensive transfer of technology, with the intent to ultimately achieve 50% indigenous content.
"Mahindra Defence and Airbus Helicopters have agreed on a blueprint that can put India on the world map for military helicopter manufacturing," said Pierre de Bausset, President of Airbus Group India.
"The helicopters we are proposing are of proven designs. We are laying the groundwork with the objective to ramp-up quickly, said Devendra Bhatnagar, CEO Mahindra Defence Naval Systems. The JV formation will be subject to the customary regulatory approvals.