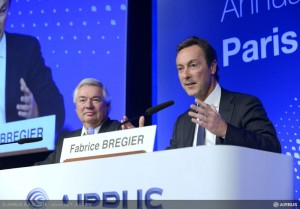 Paris. 13 January,2016. Airbus will be seeking further improvements in the company's competitiveness during 2016 – becoming even more efficient and innovative, with an increasingly diverse international presence.
This was the forward-looking strategy outlined by President and CEO Fabrice Brégier recently at the year-opening press conference in Paris, underscoring continuous improvement in 2015 that boosted its speed and efficiency – enabling a new Airbus record of 635 aircraft to be delivered during the past 12 months.
Simpler and more efficient ways of working also are contributing to Airbus' competitiveness, along with the expansion of its international manufacturing presence, which includes start-up of A320 Family jetliner production at the new U.S. final assembly line in Mobile, Alabama.  As a result, aircraft production is underway on three continents (in North America, Europe and Asia), making Airbus a truly global manufacturer, Brégier said.
Brégier also highlighted the important strides achieved in China, where the A320 Family final assembly line at Tianjin delivered a new record total of 50 aircraft in 2015.  Airbus has extended this activity for another 10 years, with additional prolongation anticipated in the future, he stated. Planning also is moving ahead for Tianjin's new cabin completion and delivery centre, starting with the A330 based on orders received from China last year for A330ceo (Current Engine Option) jetliners, according to Brégier.
Airbus' goal for 2016 is to deliver on its ambitious production expansion/ramp-up strategy, Brégier said, setting a target of delivering more than 650 aircraft to customers during the 12 months.
This objective includes the continued upswing in A320 Family production during 2016, reaching an output rate of 50 per month by early 2017 and subsequently going to 60 monthly by mid-2019; along with the delivery of at least 50 A350 XWBs in 2016 (compared to 14 in 2015).
Airbus is looking to attain another break-even year for the A380 in 2016, providing a number similar to the 27 delivered in 2015; while A330ceo production will level at a rate of six per month as the transition is made to the A330neo (New Engine Option). The first A350-1000 version of the A350 XWB will enter the final assembly line next month, enabling its first flight before year-end; while final assembly line activity for the initial A330neo is expected to begin in the fourth quarter of 2016.
Airbus' commercial priority for 2016 is to continue its market leadership role, with Brégier anticipating another busy year – targeting a book-to-bill ratio [the ratio of orders received to the units delivered and billed] of at least 1 during the coming year, with the more than 650 total aircraft to be delivered during this timeframe.
Brégier said Airbus' culture of innovation is another important attribute for the company as it looks to the future.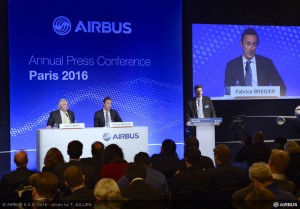 During 2015, Airbus opened BizLab facilities in Toulouse, Hamburg and Bangalore to speed up the transformation of new ideas into valuable business propositions, and the company launched pilot/prototype co-innovation projects with certain airline customers.
He noted that Airbus is working with its Airbus Group parent company on digital transformation, which includes closer relationships with the "active and creative world" of Silicon Valley in the U.S.
In addition, Brégier explained that Thierry Baril, the Chief Human Resources (HR) Officer of Airbus Group and Airbus, is introducing new digitalization in the HR process that will simplify employees' daily lives at work, enhance their value and enable the further development of their talents, as well as increasing visibility across the workforce.
"Such digital initiatives accelerate the pace at which we develop and introduce new ideas and innovation while improving our aircraft and the efficiency of our operations," Brégier told journalists.