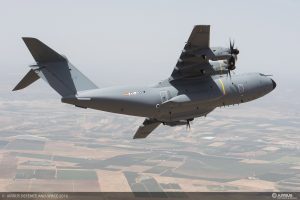 MSN44 leaves final assembly line at Seville to serve at Zaragoza base
Seville. 17 November 2016. Airbus Defence and Space delivered its first A400M to Spanish Air Force. This was the first of 27 aircraft that Spain has ordered making it the sixth nation to put the A400M into service.
Representatives of the Spanish Air Force and Ministry of Defence formally accepted the aircraft, known as MSN44, from Airbus Defence and Space in a brief ceremony at the A400M final assembly line (FAL) in Seville.
Airbus Defence and Space Head of Military Aircraft, Fernando Alonso, said: "Today is truly a special day for all of us who have been involved with the A400M programme over the years – but particularly for the Seville workforce that has worked so hard to make the aircraft a reality.
In Spanish service the A400M will replace the ageing C-130 aircraft type, carrying about twice the load over the same distance, or the same load twice as far. In addition it can serve as a tactical air-to-air tanker for other transport aircraft, including other A400Ms.
"Every delivery to every customer is of huge importance to us, but being able to hand over the first aircraft to Spain from our final assembly line in Seville is a source of particular pride. I would like to thank all our employees, as well as OCCAR and our Spanish customer for achieving this milestone."
Uniquely it is able both to cruise at jet-like speeds and altitudes over intercontinental ranges due to its four extremely powerful engines and advanced aerodynamic design, as well as to operate repeatedly from short and unprepared airstrips close to the scene of military action or humanitarian crisis.
Under an agreement signed in September, 14 aircraft will be delivered at a steady pace between now and 2022, and the remaining 13 are scheduled for delivery from 2025 onwards.
The Spanish A400M fleet will be based at Zaragoza in North East Spain and will represent the heavylift element of a transport force that includes the medium C295 and CN235, and light C212 aircraft – all produced by Airbus Defence and Space. MSN44 will fly to Zaragoza in the coming days.
Altogether more than 1600 employees from Airbus Defence and Space work in Spain for the A400m program, including 1100 working directly at the Seville FAL and nearby Tablada Factory. To date eight nations have ordered 174 aircraft of which 34 have now been delivered.