More than 137 projects submitted in record turnout-out
Bengaluru, 9 January 2017. Seven start-ups have been selected for the second season out of 137 applicants from 9 countries by Airbus Bizlab.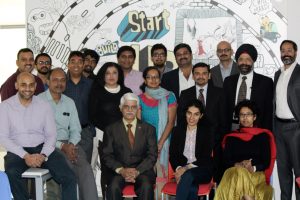 The European aviation major has launched the second season of its start-up accelerator programme in Bengaluru in the presence of the visiting French Minister for Foreign Affairs and International Development, H.E. Jean-Marc Ayrault, H.E. Alexandre Ziegler, Ambassador of France to India and Francois Gautier, Consul General of France in Bengaluru.
"The overwhelming response to our Bengaluru Call for Applications, the quality of ideas and the passion of entrepreneurs; it's just quite something. Each start-up we have selected carries the potential to shape the future of aerospace. Our job is to help them realize their potential," said Bruno Gutierres, Global Head Airbus BizLab.
The seven start-ups selected for season two are:
1. Earth2Orbit from Bengaluru – creates Geo-Intelligence data products that leverage satellite imagery to provide location specific commercial, economic, environmental and social intelligence in a cost-effective manner.
2. eFlight from Bengaluru – offers services that allow a business aircraft pilot to easily plan, log and fly. The pilot can access eFlight's cloud hosted website, iOS/Android App 24 x 7 and easily perform calculations that gives precise fuel burn based on latest winds as well as file ATC plan online and receive clearance via SMS to any airport in India.
3. Neewee from Bengaluru – is an Industrial Analytics company focused on Internet of Things and Procurement Analytics. Neewee offers extensive use of Artificial Intelligence and Machine Learning algorithms to detect and diagnose issues with industrial assets. 4
4. Stelae Technologies from Bengaluru – has created Artificial Intelligence software which transforms unstructured content (PDF, Word, ASCII, etc.) into structured, searchable and indexable output. This output can be injected into Content Management, Big Data & Analytics and Content Mining solutions. The software is currently implemented at major enterprise and public sector entities across many verticals such as laws and legislation, media/publishing, financial services, e-commerce, and since 2014, in the aerospace and defence sectors.
5. SYmbosim from Bengaluru – leverages state-of-the-art math, rigorous science, cloud computing and engineer-friendly interfaces for design of composite materials and structures. Their solution drastically reduces the time and cost from ideation to market.
6. Accelo from Mumbai – is an Artificial Intelligence based Internet of Things start-up with the vision of ensuring road safety in India by providing preventive solutions to drivers as well as accident response time management.
7. Innovative Binaries from Singapore – offers an Artificial Intelligence platform which provides the quickest way for operators to leverage benefits of their aircraft sensor data. Among other services the platform provides predictive maintenance, inventory optimization, and fuel optimization. Users of the platform include aircraft operators, MROs, aircraft & component OEMs, and commercial drone operators

Airbus BizLab is an aerospace business accelerator with facilities in Toulouse (France) and Hamburg (Germany) besides Bengaluru, where start-ups and Airbus "intrapreneurs" (internal entrepreneurs) can work together to speed up transforming their innovative ideas into valuable businesses.
The program is designed for aerospace start-ups as well as any start-up that has a product/solution that can be adapted for the aerospace sector such as Robotics, Internet of Things, Data Analytics, Virtual Reality/Augmented Reality, Supply Chain, FinTech, Gaming, Manufacturing and Image Processing.
Airbus BizLab offers wide-ranging support to early-stage selected projects in the form of a 6 month acceleration program. Start-ups have access to a large number of Airbus coaches, technical and business experts and mentors in various domains, free hosting, and a Demo Day with Airbus decision makers, venture capitalists, Airbus customers and partners.