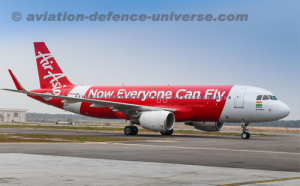 Mumbai.07 February 2022. Driving bookings on the airline's website and mobile apps, AirAsia India today announced that it would offer free 'Red Carpet' Priority Services for bookings made on airasia.co.in and the AirAsia India mobile apps. The airline has launched this as a limited period offer for bookings till 28th February for travel till 30th September 2022. 'Red Carpet' services include a dedicated Red Carpet check-in counter at all airports, priority boarding to enter the aircraft and priority baggage delivery at the carousel on arrival. 'Red Carpet' services are retailed at a price of ₹500 on other bookings channels like online travel agent sites.
Users can login with their mobile number or email address and select "Red Carpet" services among the "Popular Add-ons" section while booking and get these services for free. AirAsia India recently celebrated the first anniversary of its new website airasia.co.in, iOS and Android mobile apps and AI-powered chatbot Tia.
Red Carpet services have been curated to extend premium services to guests to make their travel experiences more seamless, contactless, and enjoyable. The prioritisation with dedicated check-in counters and baggage delivery minimises the time at the airport and queuing at arrival and departure, and complements a host of other services offered by AirAsia India beyond the flying experience, such as lounge services and FlyPorter doorstep to airport baggage delivery services.
Speaking about the offer, Dr. Ankur Garg, Chief Commercial Officer, AirAsia India said "Providing a superior product and service experience such as premium leather seats across all our aircraft, a diverse variety of fresh, healthy, oven hot 'Gourmair' meals served 36,000 feet in the sky, has helped differentiate the AirAsia India brand and offering from an otherwise increasingly commoditized flying experience. Offering unique benefits, fab deals and fantastic value for guests booking on our website and mobile apps, is a token of our appreciation to loyal customers who engage with us from their booking journey through their travel and helps us showcase the range of offerings that we provide to the discerning traveller."