Partners with UAE-based Mach Technik to offer aviation services in the Middle East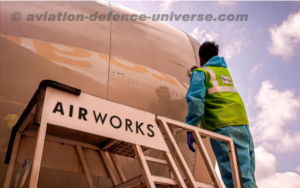 New Delhi. 25 May 2022. India's largest independent MRO and Aviation services & solutions major Air Works, has announced that it has entered into a long-term services agreement with UAE-based Mach Technik Aircraft Maintenance to provide International Line Maintenance services at the Dubai International Airport.
The development marks the maiden expansion of Air Works' International Line Maintenance business to foreign shores. With a pan-India presence across 19 international airports, Air Works Group is already the biggest provider of Transit or Line Maintenance services to foreign carriers [airlines and cargo] operating into India. The Company holds certifications from Civil Aviation Authorities of over 25 countries to maintain both narrow body and wide body aircraft at leading airports in the country.
Commenting on the partnership, Mr. D Anand Bhaskar, Managing Director & CEO, Air Works Group said, "From certifying our maiden flight in 2011 at Trichy – our first Line Maintenance station – to certifying nearly 3000 flights a month, we have come a long way. Our engagement with Mach Technik, Dubai represents a significant strategic development, as it is a testament of Air Works' decade-long investment in developing an enviable Line Maintenance service portfolio comprising expert resources, relevant certifications, and technologies. To be able to offer our services at leading international airports such as Dubai, is a matter of immense pride, given that it is one of the world's finest and busiest airport attracting the best of carriers. Dubai will therefore be ideal to test our capabilities and readiness and I am confident that together with the team at Mach Technik, Air Works will improve prevailing service benchmarks, delivering enhanced value to customers."
As part of the agreement, Air Works will extend its Quality System to induct Mach Technik's certifying staff within its Quality Assurance (QA) System. Founded in Dubai in 2019, Mach Technik Aircraft Maintenance possesses a qualified and experienced team of Line Maintenance professionals. Its agility and technical prowess has won the firm many customers in a relatively short span of time.
Speaking about the partnership, Mr. Mohammed Al-Humaidi, Chairman, Mach Technik Aircraft Maintenance said, "Our collaboration with Air Works – India's leading and most loved MRO and one of the region's finest aviation services Group – will help us offer global standards of service to discerning clients – both Indian and global. With burgeoning air traffic, Dubai and other leading regional airports represent a cradle of opportunities, and beginning with Line Maintenance, we intend leveraging our mutual synergies not just within the UAE but the entire Middle East region and beyond it."
Notably, Dubai International Airport (DXB) is one of the world's biggest and has been adjudged as the world's busiest airport for the eighth year in a row. With nearly 29 million passengers shuttling through the global gateway in 2021, the business potential for transit services is very high. As international travel resumes, the agreement will enable Air Works' Middle Eastern team led by Mr. Hassan Al-Fhadli, General Manager, Business Development, to serve a significant portion of its clients in Dubai, together with the opportunity of using their experience to acquire new regional as well as international customers.
Notwithstanding the challenges of the past two pandemic-dominated years, Air Works has been painstakingly at work, notching up several successes that reflect its passion and commitment towards Indian aviation and aerospace. Appreciation of its outstanding workmanship help the Company secure the lion's share of maintenance contracts from customers, ensuring 100% capacity utilization. Most recently, the Group was honored with dual awards for being Best MRO Service Provider and for Covid 19 Business Continuity by the Ministry of Civil Aviation, India. The Group also added new customers and expanded its defense and OEM relationships with Boeing, Embraer, Bell, and Leonardo.
Most importantly, Air Works invested and expanded its maintenance facilities by a whopping 40% in the pandemic period, adding a new, twin hangar, narrow body facility at the Cochin International Airport and commissioning a dedicated hangar for its Business Aviation customers at Hosur, Tamil Nadu, besides executing several industry-first and country-first projects. The Group also accelerated its technology-led transformation, creating IPRs such as AWDi® (Air Works Digital Info. Suite), AWtomateS® (Air Works Automation Suite) and AWCIM® (Air Works Customer Information Management) as well as winning awards for deploying technologies such as RFID to innovate and re-engineer its processes.
During the period, Air Works also unveiled the industry's first Business Analytics solution – mSights or Maintenance Insights – a tool that helps realize operational efficiencies by delivering intelligent insights from its 360-degree view of maintenance operations/ projects using an interactive dashboard. mSights was recently recognized as a winner in the Innovation in Data intelligence category at the IDC Industry Innovation Awards 2021.
For over 70 years, Air Works Group has been in the Indian MRO & aviation services space and this international expansion not only reflects the company's but India's maintenance capabilities and workmanship that are on par with international standards. As Air Works spreads its wings to international shores, its formidable client base is likely to benefit from this partnership.