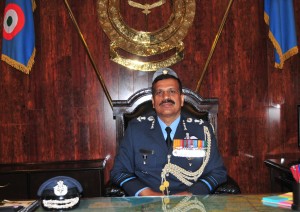 New Delhi. 01 January, 2016. Air Marshal SBP Sinha AVSM VM took over as Air Officer Commanding-in-Chief of Central Air Command on 01 Jan 16. The ceremony started with the AOC-in-C laying wreath at CAC war memorial to pay tribute to the brave heart air warriors who laid down their lives serving the nation. Thereafter, he was presented a ceremonial Guard of Honour. Subsequently, AOC-in-C addressed all the officers of Command Headquarters.
In his address, he apprised the officers on his vision to lead the Central Air Command. He complemented the officers for their professionalism in ensuring the op preparedness of CAC and exhorted the officers to continue with similar zeal and enthusiasm so as to enable Central Air Command help IAF in its overall endeavour of national security.
Later in the day, he was given briefing regarding various branches of this command. Air Marshal SBP Sinha AVSM VM graduated from National Defence Academy in June 1979 and was commissioned in the fighter stream on 15 June 1980. He was appointed as the Deputy Chief of the Air Staff on 30 April 2014. He is also the Commodore Commandant of 7 Sqn AF.    He has flown the Hunter, MiG-21, Mirage-2000 and Su-30MKI fighter aircraft and has over 3700 hours of flying. He is a 'Cat A' Flying Instructor, Instrument Rating Instructor and Examiner, and a graduate of the Defence Services Staff College. He has undergone 'Operational Electronic Warfare Course' in France and 'Executive Course on Security Studies' in USA.
He has held various Command, Instructional and staff appointments. His important Command and Instructional appointments include Instructor in Flying Instructors School, Flight Commander of a Mirage-2000 Squadron, Chief Flying Instructor of Basic Flying Training School, Air Force Examiner in Aircrew Examining Board, Commanding Officer of a MiG-21 Sqn, Commandant of Electronic Warfare Range, Team Leader of AWACS Project Team in Isreal and Air Officer Commanding of a premier Su-30 MKI base. He has held the staff appointments of Assistant Chief of the Air Staff (Plans), Principal Director of Plans, C4ISR and Acquisitions and Deputy Director of Operations (Electronic Warfare) at Air Headquarters. For his distinguished service and exceptional professionalism, Air Marshal Sinha has been awarded with two Presidential Medals Ati Vishisht Seva Medal and Vayu Sena Medal. He is married to Mrs Alpana Sinha and they have a son, who is a software engineer.
In a separate ceremony, Mrs Alpana Sinha also assumed the charge of President Air Force Wives Welfare Association (AFWWA) – Regional. The ceremony was witnessed by all the Executive Members of AFWWA (Regional) and the Presidents of AFWWA (Local) under the jurisdiction of Central Air Command.