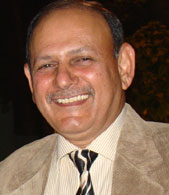 Air Marshal Pramod Vasant Athawale graduated in Electrical Engineering from the erstwhile University of Roorkee in 1972 before being commissioned in the Electronics stream of Aeronautical Engineering branch of Indian Air Force. During service, he completed his M Tech (Comp Sc) from IIT Kharagpur. At the apex of Maintenance & Logistics in IAF, as Air Officer Commanding-in-Chief of Maintenance Command IAF, he envisioned strategies with a paradigm shift before retiring in Aug 2011.
The areas of contribution by Air Mshl Athawale include both Engineering and aircrew assignments. He has had varied maintenance experience in Fighter/ transport/ helicopter fleets as well as Microwave Communication systems. Aircraft & Systems testing experience as a Test Engineer added another dimension to his maintenance acumen.
Avionics and Software have been his forte. He pioneered software initiatives in IAF establishing the Software Development Institute of Air Force for real time airborne systems integration. The related systems' integration and networking projects came up as natural assignments for him as an acknowledged projects man. He has had the satisfaction of successfully launching a few vital Air Force projects including IACCS (for Command & Control through radars/sensors networking) and AFNET (the nationwide communication network).
Midway through his career, a stint with Defence Standardisation as the head of the Institute of Standards Training made his experience well rounded and complete.
In recognition of his distinguished service to the nation, Air Mshl Athawale was awarded Presidential awards of Vishisht Seva Medal in 1997, Ati Vishisht Seva Medal in 2008, and Param Vishisht Seva Medal in 2010. He was also appointed as Honorary Air ADC to The President of India.
Post retirement, as a Distinguished Fellow at the Centre of Air Power Studies New Delhi, he spent some time in company of air power researchers. His writings including a book 'Indian Air Force: The Maintenance Paradigm' have prompted a change in thinking.
More recently, as Advisor to Director IIT Roorkee, he helped his alma mater in multi-pronged initiatives of Change Management. .Air Mshl Athawale is an ardent follower of the 'Theory of Constraints' and propagates its paradigms for aviation engineering & logistics management.