International Seminar on Nation Building Through Shipbuilding : A Curtain Raiser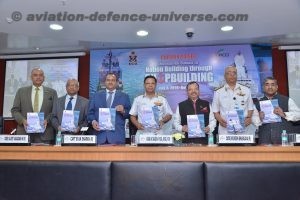 New Delhi. 08 July 2019. Vice Admiral A.K. Saxena, Controller of Warship Production and Acquisition, Indian Navytoday said that India needs to expand its capability in building world class warships to merchant vessels in the run up to the 'International Seminar on Nation Building Through Shipbuilding' later this month.
Speaking at the Curtain Raiser for 'International Seminar on Nation Building Through Shipbuilding', to be organised by FICCI, in partnership with the Indian Navy on July 25-26, Vice Admiral Saxena said that a vibrant shipbuilding industry contributes to national GDP and generates substantial business and employment opportunities in both upstream and downstream ends.
"While India has developed a national capability to design and build world class warships and submarines, we need to design and build our strengths in merchant marine with vessels for inland waterways, coastal ships and specialised merchant ships in the long run," Vice Admiral Saxena said.
He said that while the order books of Indian shipyards for building warship projects has been supported by the Indian Navy and Coast Guard, there is a need to raise the competitiveness in manufacture of indigenous shipborne equipment to generate the required volumes for long term sustenance of the industry.
"This sustenance in long term for Indian shipyards and OEMs is possible only if we become globally competitive and diversified to build ships and shipborne equipment for merchant marine," he added.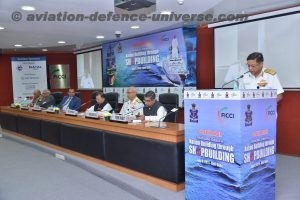 The Vice Admiral said that shipbuilding has been identified as a key strategic sector under 'Make in India' initiative as growth in the sector leads to spinoffs for industries such as steel, electrical and engineering equipment, port infrastructure, trade and shipping services. It also has huge potential for employment generation.
FICCI Advisor Commodore Sujeet Samaddar NM (Retired) said that going by the world history, no nation has achieved great power status unless it has an indigenous shipbuilding capability. Shipbuilding has a direct relationship with nation building, he said.
"Shipbuilding leads to job creation and this is the key need for our country. There is no other industry with a higher multiple of job creation than the shipbuilding industry. Most estimates quote that one job in a shipyard results in 60-65 jobs outside in direct employment," he said, adding generation of indirect jobs is far higher.
Cmde Mukesh Bhargava (Retired), FICCI National Defence Committee member and Executive Director & Member of Board, L&T Defence said that India's vast coastline of more than 7,000 kilometers need a strong navy and thus a strong shipbuilding industry.
Capt BVJK Sharma, Chairman – Shipping, FICCI Committee on Infrastructure and Director – Ports (CEO Office), Adani Ports and SEZ Ltd said that the objective of the seminar is to create a common platform for an informed debate on shipbuilding by international and national experts towards developing a synergistic national common strategy for shipbuilding, including both warships and mercantile marine.