· Surya Kiran fatal crash dampens spirits
By Sangeeta Saxena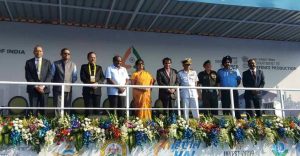 Yelahanka, Bangalore. 20 February 2019. In an year when expectations were high and a more well planned Aero India seemed to be in the offing, a crash of the Surya Kiran aerobatic aircraft killing one just twenty four hours prior set gloom in the fraternity and the show opened on a tragic note. The Surya Kirans will not fly today. HAL's Light Combat Aircraft Tejas is roaring in the skies above Yelahanka and 61 aircraft on display and 403 exhibitors make this edition of Aero India as interesting as can be.
The speeches by both the Senior and Junior Ministers were routine with nothing great to announce. Inaugurated by the Defence Minister Nirmala Sitharaman said that India provides a runway of billion opportunities in aerospace and defence. Prime Minister Narendra Modi inspired manufacturing sector in defence to take on the challenges so as to make aerospace components in India.
Minister of State for Defence Subhash Bhamre said India has introduced procedural reforms in defence manufacturing. "We have space for everyone including of DPSUs, private firms and others. Aero India Show is a mega event that showcases India's capabilities and strength in aerospace ," he added.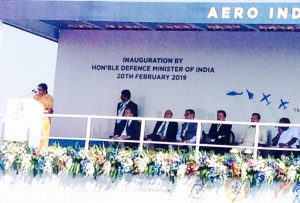 The flypast was led by the resurrected Dakota DC-3 aircraft (Parshuram) of 1940 vintage in military colours. The fighters were the cynosure of all eyes with inaugural ceremony flights by Rafale, Jaguar, Su 30MKI and F16. Indian home made HAL's baby Tejas ofcourse was as always India's pride along with the choppers LUH and ALH . The LCH presented a Dhanush formation, the HTT-40 flew along with Hawk-I and Do-0228.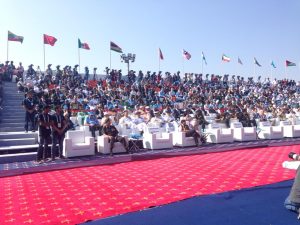 HAL is keen to launch the indigenous development of SPORT (Aircraft) with 4++ generation or equivalent capabilities to bridge the gap in pilot training to command front line fighters, HAL CMD R Madhavan told media."The SPORT aircraft would be an essential element of the training of the pilots in future and utilized for fighter training after Advanced Jet Training stage and before induction of pilots into a frontline fighter squadron, he noted. Another star attraction at the pavilion would be the aerospace corner, virtual and holographic room and Jaguar aircraft simulator," he added.
The three Chiefs of the Indian Armed Forces were present at the inaugural .