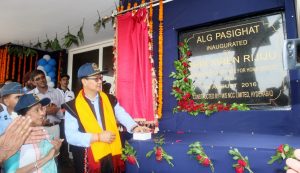 Shillong. 19 August, 2016.   Arunachal Pradesh today got the upgraded Advanced Landing Ground (ALG)  at Pasighat operative. It was inaugurated by KirenRijijuMoS for Home Affairs in the presence of Air Marshal C Hari Kumar AVSM VM VSM, Air Officer Commanding-in-chief (AOC-in-C), Eastern Air Command .
The ALG at Pasighat was taken over by the IAF in February2010. Previously, it was small strip that was partly paved, partly grassy, and reinforced with perforated steel plates. It was utilized in the past for air maintenance sorties and casualty evacuation by the IAF. Commercial helicopter operations were also being undertaken from the helipads that existed earlier.

It may be recalled that following a MoU between Government of Arunachal Pradesh and Ministry of Defence in June 2009, the IAF had embarked on an ambitious reconstruction plan to upgrade eight ALGs, including infrastructure development at an overall outlay of nearly Rs. 1,000 Crore.
The ALGs a Walong, Ziro, Along, Mechuka and Pasighat have since been upgraded and are operational now. Two ALGs at Tuting and Tawang are expected to be ready by the year end, while the ALG at Vijaynagar would undertake for reconstruction as soon as the road connectivity between Miao and Vijaynagar is restored.
The event was attended by a large number of civil and military dignitaries including the Chief Secretary and Secretary Civil Aviation Arunachal Pradesh and Air Vice Marshal Manavendra Singh Vr C VSM, Senior Officer-in-Charge Administration, Eastern Air Command Shillong.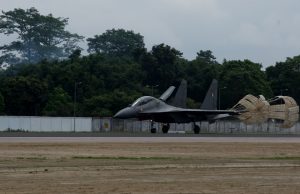 A flypast by a formation of three Sukhoi-30 MKI Air Dominance Fighter aircraft, that took off from one of the forward EAC airbases was a highlight of the event. This was followed by a Su-30MKI also landing at the ALG. The touchdown by a frontline fighter jet of the IAF at the ALG is a 'historic first' in the predominantly hilly state of Arunachal Pradesh, which has several ALGs at varying altitudes.
Earlier, the AOC-in-C and other senior officials who arrived at the ALG by an An-32 aircraft from Shillong and were received by the Chief Construction Engineer (North East Project). Also, the Hon'ble Union Minister had arrived in a BSF helicopter. Thus it was a rare sight to see many different types of aircraft at this forward airfield.
The new runway surface and other infrastructure built are similar to the other upgraded ALGs that have been inaugurated in the recent months. Replete with facilities such as aprons for ground manouevering, Air Traffic Control Tower, perimeter road and a security wall, the ALG will facilitate operations of fixed wing aircraft as well as helicopters of both civil and military operators.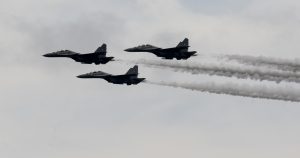 The ALG at Pasighat will facilitate air connectivity with rest of the country and give a huge fillip to tourism in the state of Arunachal Pradesh. AAI is in the process of setting up a civil terminal, the construction of which has yet to commence. Now the need of the hour is for all agencies to get together and make it happen.