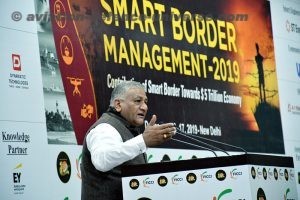 NEW DELHI, 17 December 2019: Gen (Retd) V K Singh, Minister of State for Road Transport & Highways, Govt of India, today said that the government is in the process of adopting new and smart technologies which will help in making the 30 km per day road construction target more ambitious.
Speaking at 'Smart Border Management – 2019', organized by FICCI, jointly with India Foundation, Gen (Retd) Singh said that the government is insisting on getting newer technologies which makes the pace of road construction faster and bring down the cost. "There are many new solutions coming in the market. In the coming years, we will see the pace of road building going beyond the 30 km per day target and it will go much beyond," he said.
Gen (Retd) Singh added that to increase trade and commerce across borders, it is imperative to develop the local market and the community should be a part of this development. He said, "Develop the border areas to meet the aspirations of the people living there."
To create the first line of safety and security at the border, Gen (Retd) Singh emphasized the need of adopting scouts and village volunteers. "Most states have introduced scouts and village volunteers and they both are needed at the border. They will not only get employment and earn income but also help in securing the borders," added Gen (Retd) Singh.
In a bid to attract investments in the road sector, Gen (Retd) Singh said that roads are profitable business. "Innovativeness needs to be brought in to garner your resources so that you make good roads in border areas. We need tailormade technology and this is what smart solution would be," he said.
Gen (Retd) Singh said that to make smart borders both central and state governments need to ensure synergy to have a holistic approach.
Dr Rajdeep Roy, Member of Parliament, Lok Sabha (Assam), highlighted the challenges associated with border management and stressed on the need to have all-weather roads to ensure smart borders.
Mr Tapir Gao, Member of Parliament, Lok Sabha (Arunachal Pradesh), said that inhabitance, transport and communication, health, delivery system, education, banking systems, disaster management strategies, and border trade with Bhutan and Myanmar are some of the opportunities that we need to explore in the Northeast border areas.