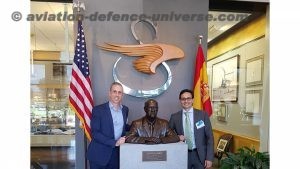 Miranda. 2 JULY 2018. The commercial managers of Aciturri Aerostructures and Aciturri Aeroengines have participated in the direct mission of the aeronautical sector to the East Coast of the USA organized by Extenda, a great opportunity to get in touch with aeronautical companies of this region, such as Sikorsky- –Lockheed Martin , Pratt & Whitney , UTCA Aerospace Systems ,  Piper Aircraft or Kaman , among others.
The initiative, which has been a unique forum to present Aciturri, has served both to bring our industrial project closer to these companies -and open possible future opportunities with them- and to meet others interested in being part of supply chains similar to the our.
Likewise, we have been able to deepen in the opportunities and advantages offered by some of the North American states (specifically Florida and Connecticut) to foreign companies for their establishment in the USA; and familiarize ourselves with the contact channels in those states that will allow us to maintain future contacts with other organizations that may be of our interest.
From Aciturri, it has been a privilege to participate in this mission, especially in order to explore possible collaborations in our idea of establishing, as part of our international expansion, an office in the USA from which to provide our clients with closer commercial support, and strengthen the development of our supply and engineering chain.