Abu Dhabi. 08 July 2020. Abu Dhabi Airports is coordinating and collaborating with all relevant authorities to ensure every available precautionary measure is being taken to protect the health, safety and wellbeing of employees, stakeholders and passengers.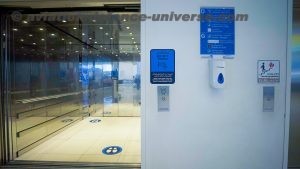 It collaborates with Abu Dhabi Government, General Civil Aviation Authority, Department of Health (DoH) and Ministry of Health and Prevention (MoHAP) to make the airport a standard to be followed .
All incoming passengers arriving at Abu Dhabi International Airport, as well as employees, undergo free polymerase chain reaction (PCR) testing. Testing begins on board while the aeroplane is on the tarmac, as nurses conduct temperature checks on inbound passengers. Passengers arriving from visa-free countries and high-risk countries will be subject to advanced PCR testing at the airport. Following testing, passengers will be required to self-quarantine for four days. After the four-day quarantine period, passengers will be required to undertake a secondary PCR test to check for a COVID-19 infection. Following the testing, incoming passengers are strongly encouraged to self-quarantine and stay at home for 14 days after arriving in the UAE. Passengers arriving at Abu Dhabi International Airport will pass through a thermal scanner on the way to immigration.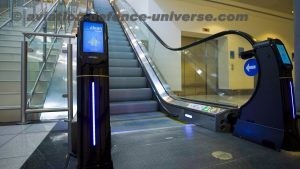 Hand sanitizes have been installed across all the airport facilities, including Terminal buildings. The cleaning services and efforts have been intensified across the airport facilities and workplaces. The disinfection frequency of offices, floors, counter surfaces, washrooms, prayer rooms, parking areas, smoking areas, and additional spaces has been accelerated. Aircraft arriving and departing from Abu Dhabi International Airport are also undergoing thorough disinfectant cleansing as an added precaution.
Abu Dhabi International Airport's state-of-the-art technologies to contain the spread of COVID-19 are well placed and put to use as a routine. SterixGates is designed and manufactured by UAE-based company SterixEco, across key entrances and exits at Abu Dhabi International Airport.The contactless gates operate by first scanning the body temperature of a person upon their entrance into the gate and alerting relevant parties if the occupant has a higher than normal temperature. After the temperature test, a full disinfection of the occupant begins using SterixEco's safe and internationally accredited disinfectant liquid. The liquid is dispersed in a fog-like manner, sanitizing a person from head-to-toe in as little as three seconds.The alcohol-free disinfectant liquid kills over 99.9% of all germs and viruses, including COVID-19.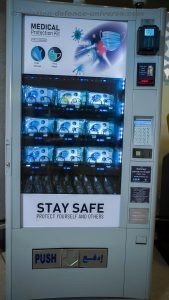 Another technology is Tchk (Touch-less Keypad Technology) which is designed and manufactured by Meta Touch, a start-up based at the UAE University Science and Innovation Park (UAEU SIP), which develops innovative solutions designed to support health and safety. Installed across 53 elevators at Abu Dhabi International Airport, it has a touchless control panel that allows users to command an elevator without physically pressing any buttons, by simply gesturing with their hands in front of the panel, preventing cross-infection caused by touching elevators' buttons.
Thermal scanning cameras that incorporate the latest Artificial Intelligence (AI) technology and cameras with facial recognition capabilities and heat motion sensors track the movements of people, including those potentially infected with COVID-19.
PPE Vending Machines have installed , special Personal Protective Equipment (PPE) vending machines to enable travellers to purchase various kinds of masks and gloves. They are located at key junctures in the arrival and departure halls and sell various types of masks and gloves as well as combinations of both so that everyone has a chance to pick up what they need.
Self-sanitizing handrails on escalators have been installed across the Abu Dhabi International Airport. The special handrails clean themselves as they cycle through the escalator so that when you grab the handrail its surface is perfectly sterile and clean, protecting you from all kinds of germs, bacteria and viruses.
Social distancing guidelines are enforced throughout the Airport. At all times passengers must maintain social distancing through disembarkation, immigration, baggage collection, and customs, until they have left the airport. All passengers must maintain a two-metre distance from other travellers at all times, be they standing, sitting, or walking. Abu Dhabi Airports is collaborating with Etihad to align its rosters and manage workforce clusters.
All passengers are required to wear facemasks and disposable gloves. Restaurants and cafes in the Terminal buildings are open, but with enhanced safety measures in place. Capacity cannot exceed 30 per cent and payment can only be made electronically. Staff and customers must wear masks and gloves and disinfectants must be used frequently. People over the age of 60 and younger than 12 are prohibited from entering. Up to two people only are allowed to be seated at each table, which must be distanced at least 2.5 metres apart. Outlets must only serve food and drink using disposable cutlery, and hand sanitiser dispensers must be put up.
Abu Dhabi International Airport is supporting global efforts to combat global pandemic. Cargo operations at Abu Dhabi International Airport are ongoing, facilitating the supply of vital equipment and goods to communities and healthcare facilities across the UAE and the world. Cargo facilities processed 7,315 flights with over 51.8 million kgs of cargo. The Airport has facilitated a number of repatriation and humanitarian flights for Emiratis and UAE residents, as well as facilitating the delivery of critical supplies to more than 47 countries.
There are 53 touchless elevators, 71 counters with shields , 3 vending machines for medical kits and 400+ hand sanitising stations to keep up the confidence of both the travellers and the airport staff.