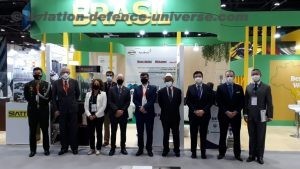 Abu Dhabi. 23 February 2021. The second day of the International Defense Exhibition and Conference (IDEX), in Abu Dhabi, was a lot of activity for ABIMDE and the companies that exhibit at the "PavilhãoBrasil". The organization received a visit from several groups on Monday.
The ABIMDE stand received visits from the president of Apex-Brasil (Brazilian Trade and Investment Promotion Agency), Admiral Sergio Ricardo Segovia Barbosa, from the Brazilian ambassador in Abu Dhabi, Fernando Igreja, and the representative of the Chamber of Commerce Office Arab-Brazilian (CCAB), in Abu Dhabi, Rafael Solimeo.
"The visits by authorities and partners to ABIMDE show the relevance of our work in favor of the Defense and Security industries", says the project director, Paulo Albuquerque.
IDEX will take place at the Abu Dhabi National Exhibition Center (ADNEC), in the United Arab Emirates, until next Thursday, 25th February. It is the first major face-to-face Defense event to be held since the beginning of the Corona virus pandemic.
The event features the latest developments, technologies and innovations in the defense industry. In addition to supporting the development of the sector, the event establishes new relationships between large international companies. Atech, Avibras, Avionics, CBC, Condor, Embraer, Gespi, Kryptus, MacJee, M&K Logistics, Siattand Taurus also participate in the exhibition.
The "PavilhãoBrasil" is promoted by ABIMDE and Apex-Brasil, with the support of MD, MRE and CCAB.