Paving the way for the delivery of the first A320neo with CFM LEAP engines in mid-2016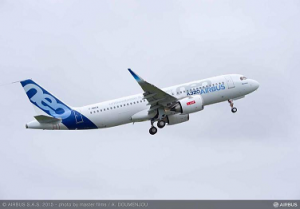 Toulouse. 02 June  2016.  A320neo, received  the Type Certification from the European Aviation Safety Agency (EASA) and Federal Aviation Administration (FAA) for the second engine option to be certified – CFM International's* LEAP-1A engine. This certification paves the way for the delivery of the first A320neo equipped with this engine type in mid-2016. This award follows by six months the initial Certificate of Airworthiness received from the EASA and FAA for the A320neo, powered by the Pratt & Whitney engine option. The first A320neo was delivered on 20th January 2016.
Fabrice Brégier, Airbus' President and Chief Executive Officer said: "This key milestone for the A320neo programme, and its second engine option – the specially developed LEAP-1A, is a double seal of approval by the two major international governing bodies and comes after the A320neo Family had successfully accomplished a rigorous programme of certification trials. We look forward to the entry into service of LEAP-powered models in the very near future."
The two LEAP-powered aircraft assigned to the flight test campaign have now successfully accumulated over 1,000 flight hours in more than 350 flights – including 150 flight hours completed with the same aircraft in an airline-like environment to ensure operational maturity at entry into service. Certification of the remaining aircraft/engine variants with LEAP engines will follow in the coming months. When all flight testing has been completed, the NEO development fleet (with both engine options) will have achieved a combined total of 3,000 flight hours.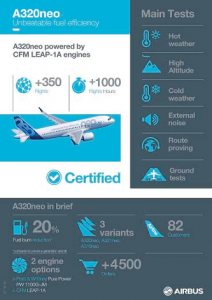 The A320neo Family offers unbeatable fuel efficiency. Featuring latest engine technologies, Sharklet wing-tip devices and cabin innovations, the A320neo Family aircraft offers the lowest operating costs of any single-aisle aircraft delivering 15% fuel burn per seat reduction at entry into service in 2016, and a 20% reduction by 2020. Furthermore, everyone will benefit from the A320neo's enhanced environmental credentials – which include a significant decrease in C02 emissions and a nearly 50 percent lower noise footprint.
The A320neo Family offers airlines an engine choice between the Pratt & Whitney Pure Power PW1100G-JM and the CFM LEAP-1A engines. With one aircraft in three sizes (A319neo, A320neo, A321neo), the A320neo Family, seating from 100 to 240 passengers, allows operators to match the right aircraft size to demand and seamlessly covers the entire single-aisle segment on low to high-density domestic to longer range routes up to 4,000nm. Thanks to their widest cabin, all members of the A320neo Family offer unmatched comfort in all classes and Airbus' 18-inch wide seats in economy as standard. Since its launch on 1st December 2010, the A320neo Family has received a tremendous market endorsement with more than 4,500 orders from over 82 customers, representing some 60 percent share of the market.
*CFM International is a 50/50 joint company between GE and Safran Aircraft Engines.