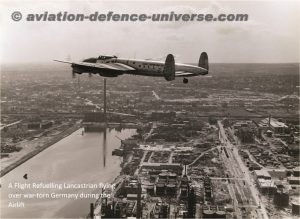 25 JUN 2018.
In June 1948, the Berlin Blockade was one of the first major international crises of the Cold War. The Soviet Union had blocked Western Allies' railway, road and canal access to the sectors of Berlin under Western control. To counter this, the Western Allies organised the Berlin Airlift to carry supplies to the people of West Berlin.
Originally, the operation was carried out by military authorities, but it was soon expanded to include 25 British private contractors, in what was codenamed 'Operation Plainfare'. Flight Refuelling Ltd [Cobham] was the first civilian company to be engaged, and the last to withdraw after its 12 aircraft had ferried in almost seven million gallons of domestic heating oil and diesel fuel. The miles flown to supply Berlin from the air between 24 June 1948 and 12 May 1949 equalled almost the distance between the earth and the sun.
The company's effort required the employment of 32 full crews and its commitment was recognised with the formal presentation of a banner marking the delivery of the 100,000th ton of liquid fuel into RAF Gatow.