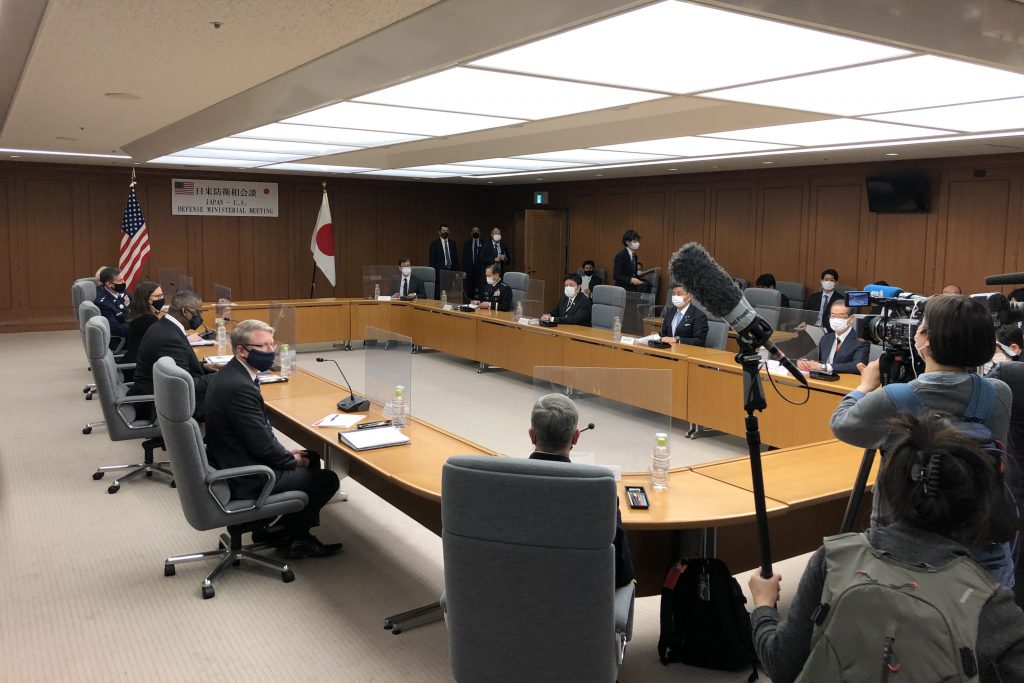 By Sangeeta Saxena
New Delhi. 18 March 2021. Last week it was Quad summit which made China squirm and this week it is the 2+2 Dialogue in Tokyo. American and Japanese Defence and Foreign Ministers concurred that China's behaviour has become more aggressive and both the nations will join hands to counter China's destabilising efforts.
USA's Secretary of State Antony Blinken and Secretary of Defense Lloyd J. Austin III , President Joe Biden's right and left hands, chose old ally Japan for their first official travel post the Biden administration took over the reigns of the US government. They met with Japanese Foreign Minister Toshimitsu Motegi and Defense Minister Nobuo Kishi and together stated that they would continue to collaborate with like-minded nations — including Australia and India — to promote a free and open Indo-Pacific. And Motegi added the icing on the cake by reconfirming the strong commitment of the United States regarding defense of Japan using all types of U.S. forces, including nuclear.
The Japanese are not worried about China's aggressive actions in the Taiwan Strait alone but also about a recent Chinese law authorizing the Chinese coast guard to patrol the Senkaku Islands in the East China Sea, which are under Japan's administration and come under Article 5 of the U.S.-Japan treaty mandating America's defence of Japan. And not to forget the issues of denuclearization of North Korea, enhancing alliance capabilities across all domains, and addressing aggressive and coarsened behaviour from China — especially in the South China Sea. And China is not the only headache for Japan. It has island and maritime border disputes with Taiwan, Brunei, Indonesia, Malaysia, Philippines and Vietnam in the South China Sea and its extension.
Secretary of Defense Lloyd J. Austin III post his first in-person bilateral engagement with Japanese Minister of Defense Nobuo Kishi stated, "today, our alliance forges on, resolute and resilient in the face of our shared challenges. Without question, the U.S.-Japan alliance remains a cornerstone in addressing today's and tomorrow's challenges as we work together to uphold a free and open Indo-Pacific. I am confident that working together we can meet any challenge and outmatch any competitor in the years ahead."
But the common adversary who was the topic of discussion was not silent. Infact he was fuming. Chinese Foreign Ministry Spokesperson Zhao Lijian's at his regular press conference exhorted ." The US-Japan joint statement maliciously attacks China's foreign policy, flagrantly interferes in China's domestic affairs, and attempts to harm China's interests. We deplore and reject it and have lodged stern representations with both countries. "
He added strongly, " China's position on issues relating to Taiwan, Hong Kong, Xinjiang, the South China Sea and the Diaoyu Island is consistent and clear. Our resolution and will to defend national sovereignty, security and development interests is rock solid. China's sovereignty over islands in the South China Sea and the adjacent waters, the Diaoyu Island and its affiliated islands is indisputable. The South China Sea is more than 8,300 miles away from the continental United States. Despite the distance, the U.S. side has repeatedly sent warships and military aircraft to the South China Sea for military drills and close-in reconnaissance, without a break all year round. It is the United States that has been flexing muscles and practicing coercion and intimidation. Issues concerning Taiwan, Hong Kong and Xinjiang are China's domestic affairs that brook no foreign interference. The US-Japan joint statement shows a disregard for historical merits of the issues, as well as facts and truth. It is but further evidence of the two countries colluding to meddle in China's internal affairs and malign China."
USA's Secretary of State Antony Blinken and Japanese Foreign Minister Toshimitsu Motegi also met and reiterated their commitment to denuclearization of North Korea and to expanding opportunities for U.S.-Japan-Republic of Korea trilateral cooperation. Restoring democracy in Myanmar was another important topic of discussion. The United States and Japan discussed cooperation and information sharing related to cyber threats, as well as collaboration to hold states accountable when they engage in significant malicious cyber activity that violates the framework for responsible state behavior in cyberspace.
The Defense Ministers acknowledged the importance of close coordination as the Department of Defense conducts its Global Posture Review. They welcomed progress on force realignment efforts and reaffirmed their commitment to implementing the current arrangements in ways that maintain operational readiness and a sustainable presence, while mitigating the impact on local communities. They reconfirmed that the plan to construct the Futenma Replacement Facility at the Camp Schwab-Henokosaki area and in adjacent waters is the only solution that avoids the continued use of Marine Corps Air Station Futenma, and committed to completing construction as soon as possible. Regarding Host Nation Support, having agreed to a one-year extension amendment to the current Special Measures Agreement, the Ministers instructed their negotiators to work toward a new mutually beneficial multi-year agreement.
The two nations declared that they will engage bilaterally through interagency dialogue on shared priorities to enhance supply chain resilience in sectors of mutual interest to the United States and Japan in view of the "Executive Order on America's Supply Chains" signed on February 24. Leveraging the bilateral dialogue, the United States and Japan will also explore ways to engage with industry and to expand future regional cooperation.
For U.S. service members in Japan, the discussions will mean more exercises with Japan's self-defense force. "In order for the U.S. forces and the self-defense force to serve the missions, we agreed on the notion of the necessity to engage in more sophisticated bilateral, as well as many multilateral exercises," Japanese Defense Minister Kishi said. Ministers welcomed the realignment initiatives of U.S. Forces in Japan so far including the relocation of Marine Corps Air Station (MCAS) Futenma to Henoko-saki and facility development of Mageshima and agreed that Japan and the United States will continue to closely work together to steadily advance them.
While the two nations continued their strategic and geopolitical discussions, angry China vehemently stated through it's Foreign ministry Spokesperson, "United States and Japan, stuck in the Cold-War mentality, deliberately seek bloc confrontation and attempt to form an anti-China circle. This runs counter to the trend of our times and the aspiration for peace, development and cooperation shared by the region and the vast majority of countries in the world. It will only bring chaos or even conflict to the region and further expose the US-Japan alliance's true face of undermining regional peace and stability. Zhao Lijian: The US-Japan joint statement maliciously attacks China's foreign policy, flagrantly interferes in China's domestic affairs, and attempts to harm China's interests. We deplore and reject it and have lodged stern representations with both countries. I would like to stress the following:"
However much China reacts the fact remains that US-Japan alliance is the strongest in the twenty first century world . 2020 marked the 60th anniversary of the signing of the U.S.-Japan Security Treaty. The U.S.-Japan Alliance was strengthened in 2015 through the release of the revised U.S.-Japan Defense Guidelines, which provide for new and expanded forms of security-oriented cooperation. Japan provides bases as well as financial and material support to U.S. forward-deployed forces, which are essential for maintaining stability in the region. In January 2016 the United States and Japan signed a new five-year package of host nation support for U.S. forces in Japan. In December 2016, the United States returned a major portion of the Northern Training Area, nearly 10,000 acres, reducing the amount of land utilized by the United States on Okinawa by close to 20 percent, there by putting an end to Okinawan resistance to their land being in US' control.
Japan and the United States belong to a number of the same international organizations, including the United Nations, G7, G-20, Organization for Economic Cooperation and Development, Asia-Pacific Economic Cooperation forum, ASEAN Regional Forum, International Monetary Fund, World Bank, and World Trade Organization. Japan is also a Partner for Cooperation with the Organization for Security and Cooperation in Europe and an observer to the Organization of American States. In 2019, Japan assumed the G-20 presidency and hosted numerous ministerial meetings as well as the G-20 Leaders' Summit in Japan.
Historical events like Pearl Harbour, Hiroshima, Nagasaki and American occupation of Japan are now buried in the past and remembered on celluloid. US and Japan are the greatest friends in today's world and irrespective of who is the resident of White House, US policy for Japan never changes. Both know they cannot do without each others' support in keeping China at bay. The fact is America and Japan trust each other but the bigger fact is that both do not trust China. So who better than each other to have a strategic alliance with?