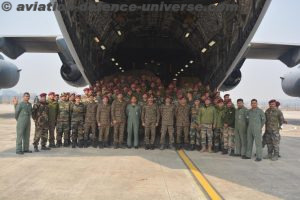 New Delhi. 07 February 2023. Today two teams consisting of 101 personnel of National Disaster Response Force (NDRF) along with specially trained dog squads and all the necessary equipments have been sent to Türkiye by special Indian Air Force flights for undertaking search and rescue operations in the affected areas of Türkiye, which have been devastated on 06.02.2023 by massive earthquakes.
The contingent of NDRF is led by Commandant,  Gurminder Singh along with Doctors and paramedics for providing necessary assistance. The teams are self-contained in all respect and are equipped with all the necessary state-of-the art search and rescue, and personal safety equipments. The NDRF team will assist the local authorities of the Türkiye in relief and rescue operations.
The Government of India is committed towards providing all necessary assistance in this crisis situation to the Government of Türkiye to cope with the earthquake as envisioned by Prime Minister of India.