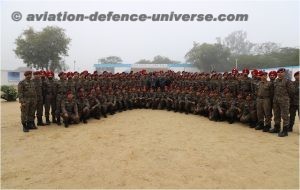 Chandigarh. 18 January 2020. 121 IAF Garud commandos were awarded maroon berets at Garud Regimental Training Centre in a ceremonial parade to mark the successful completion of training .
Air Vice Marshal T Singh VM, Assistant Chief of Air Staff Operations (Offensive) reviewed the parade. He congratulated the Garuds on their successful completion of the rigorous training program.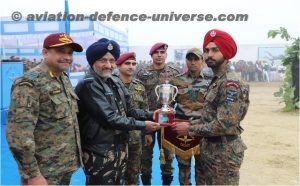 The reviewing Officer presented the Maroon Beret to the Garud trainees and gave away trophies to the meritorious trainees. The best all rounder trophy was presented to LAC Yogesh Singh. While addressing the newly inducted Garud Commandos, the reviewing officer emphasized on the importance of training and honing of skills to keep pace with the changing security scenario.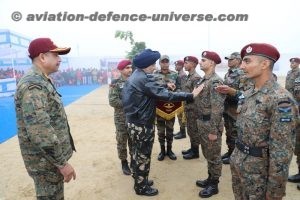 During the parade, the Garuds carried out demonstrations to showcase various skills such as Combat Firing, Hostage Rescue Drill, Combat Assault, Obstacle Crossing, Rock /Wall (Climbing/Slithering/Rappelling) and the Military Martial Arts.
The Maroon Beret Ceremonial Parade is a moment of pride and achievement for the Garuds marking the culmination of their intense training and transformation from Young Boys to Young Special Forces Operators joining the elite Garud Commando force.