104th Annual General Meeting held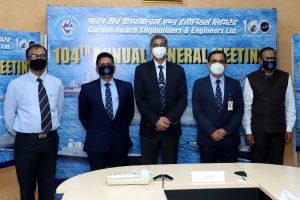 Kolkata. 11 September 2020. The 104thAnnual General Meeting (AGM) of Garden Reach Shipbuilders & Engineers Limited (GRSE) was held on Friday 11 Sep 2020 through VC/OAVM. The Meeting was attended by Rear Admiral VK Saxena, IN (Retd), Chairman & Managing Director and other Directors, along with shareholders.
The performance of GRSE, continued to be strong during the year 2019-20:
Revenue from Operations stood at Rs. 1433.30 Cr as compared Rs.1386.42 Cr, an increase of 3.38 % over Previous Year
EBITDA stood at Rs. 255.30 Cr as compared to Rs.211.16 Cr, 20.90%, improvement over Previous Year
EBITDA (Margin) is 15.39% in current twelve months against 13.56% in the corresponding twelve months. Thus, registering an increase of 1.83%
PBT stood at Rs. 223.87 Cr as compared to Rs.178.96 Cr, up by 25.10%, in comparison to twelve months of Previous Year
PAT stood at Rs.163.48 Cr, as compared to Rs.109.94 Cr, up by 48.70%, in comparison to same period of Previous Year
Profit After Tax (Margin) is 9.86% in current twelve months against 7.06% in the corresponding twelve months Thus, registered increase of 2.80%
EPS stood at Rs.14.27 as compared to compared to Rs. 9.60 up by Rs.4.67 per share, in comparison to same period of Previous Year
The Board of Directors of the Company has recommended a final dividend of Rs. 1.40/- per equity share of face value of Rs.10/- each for the financial year 2019-20. This is in addition to the interim dividend of Rs.5.74/- per equity share of face value of Rs. 10/- each which was paid on 30 Mar 2020. The total Dividend declared for the Financial Year 2019-20 is Rs.7.14/- per equity share of face value of Rs.10/- each. The order book position of the Company as on 31 Mar 2020 stood at Rs. 26,544 Cr with shipbuilding projects related Order Book Value of Rs. 26,281 Cr. During the Reported Period the company delivered 04 Warships, 02 for Indian Navy and 02 for Indian Coast Guard. This makes total warship delivered numbers as104 till end of 31st March 2020.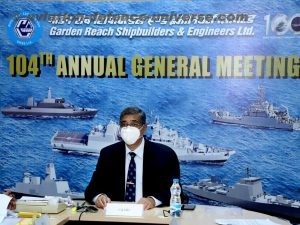 Strengthening India's Defence preparedness has been GRSE's core objective, focused on its core verticals of Shipbuilding, Engineering & Engine Production. The Company delivered the 105th warship, FPV, ICGS Kanaklata Barua, to the Indian Coast Guard on 09 Jun 2020, being the only shipyard in the country to have delivered 105 warships. With continuous focus on modernization of infrastructure, GRSE has taken a strategic step to augment existing shipbuilding capacity. A state of the art underwater CNC Plasma Cutting Machine & a new Hull Block Fabrication Facility was inaugurated by Defence Minister Rajnath Singh at the RBD Unit of GRSE during AtmaNirbhar Bharat Week on 10 Aug 2020. GRSE's diversification into Engineering has aided the land forces of the country and friendly foreign countries with the range of pre-fabricated steel bridges installed at high altitudes and for disaster relief. On 13 Aug 2020, Rajnath Singh, launched a "First of its Kind" Assault Bridge as part of the AtmaNirbhar Bharat Week Event.
Rear Admiral V K Saxena, IN (Retd.), Chairman & Managing Director, in his address highlighted GRSE's healthy Order Book and expressed his confidence in Team GRSE to emerge strong amidst the uncertainties created by the global pandemic. CMD GRSE appreciated the hard work and dedication of all the employees in taking the Company on its path of success & thanked the Investors for their faith, commitment & confidence in the Shipyard. The unstinted support from the Ministry of Defence, Indian Navy, Indian Coast Guard, Central and State Government Authorities has helped GRSE achieve its goals, he said. New initiatives including implementation of Industry 4.0 robotics, AI, machine learning, with sparked innovations in automation,GRSE is poised for workload consolidation across Design, Production & Supply Chain Management in the future to strive ahead on a growth path.