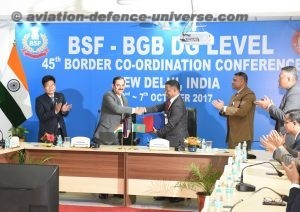 New Delhi, 06 October 2017. 45th DG Level Talks between Border Security Force India and Border Guards Bangladesh (BGB) has been conducted in New Delhi from 02nd October to 06th October 2017. The 25 member delegation of BGB led by Maj Gen Abul Hossain interacted on issues of Border Management and related issues for 4096.7 km of Indo Bangladesh border, with BSF delegation led by  K K Sharma DG BSF.
Discussions were made on agendas proposed by both the forces. Issues of discussion from BGB were Firing/killing/injuring/beating of Bangladesh nationals by BSF/Indian nationals,  arrest/apprehension of Bangladeshi nationals by BSF, smuggling of fire arms/ammunition/explosive etc. from India to Bangladesh, smuggling of various types of drugs and phensedyl from India to Bangladesh.
Development works within 150 yards of IB, Provide assistance for River bank protection works along common/border River, Confidence building measure,  Organized Combined Milon Mela at commonly agreed places, Exchange of visit by BGB/BSF Medical team, Joint Seminar/Symposium/Workshop on border related issues in collaboration with renowned academics in the bordering area and Exchange of instructors/teachers for BGB training centers and educational institution.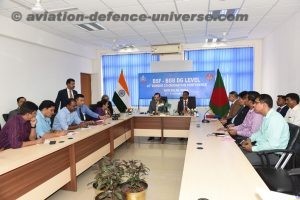 Points from BSF discussed were Prevention against attacks on BSF personnel by the  Bangladeshi criminals, Prevention of trans-border crimes, Issues related with Border Infrastructure, Action against IIGs, Effective implementation of Coordinated Border Management, Expediting verification of nationality for early repatriation of BD nationals found staying in India illegally, Repair, maintenance, construction and re-construction of Boundary Pillars on Indo-Bangladesh border by BSF and Confidence Building Measures.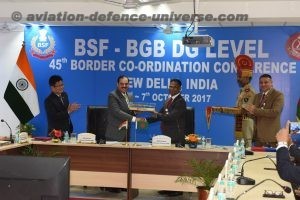 Meeting has been conducted in a cordial atmosphere and discussions thereto were very fruitful. Meeting ended today with the signing of Joint Record of Discussions by both the Director's General of BSF and BGB. Next DGLT will be hosted by Border Guards Bangladesh in Dhaka in February/March 2018.