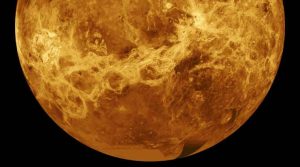 New Delhi. 10 August 2017. A mission to explore Venus has been mentioned in Department of Space demands for grant 2017–18. ISRO informed that the government had given a go-ahead for the planning of the mission.The Indian Venusian orbiter mission is a proposed orbiter to Venus by the Indian Space Research Organisation (ISRO) to study the atmosphere of Venus. If funded, it would be launched on or after 2020.
The study team has submitted its inputs addressing various options and opportunities for Venus mission. The study team's inputs will be reviewed by Advisory Committee for Space Sciences (ADCOS) for further considerations. Meanwhile, the call for scientific proposals, through an Announcement of Opportunity (AO) to conduct space based experiments has been made to Indian scientists. After completion of selection process of proposals, definition of mission including budget will be worked out. Ten lakh rupees has been sanctioned for the project.
The terrestrial planet Venus is considered to be the Earth's sister because of their similarities in terms of mass, size and proximity to the Sun. This second planet in the solar system, however, vastly differs from its blue sister as Venus' atmosphere consists mainly of carbon dioxide, whereas Earth's atmosphere is dominated by nitrogen and oxygen.
The exploration of Venus began in the early 1960s with Soviet Union's Venera missions. Since then Venus has been explored by flyby, orbiter, a few lander missions and atmospheric probes by various countries.